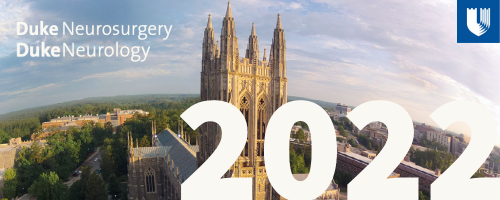 Early signs of dementia, glioma incidence among Hispanics, emerging tools to predict aneurysm rupture, and more: Here are 10 stories you may have missed this year.
Glioblastoma and resistance to immunotherapies
Duke researchers identify a unique process within the environment of brain tumors that drives resistance to immune-boosting therapies, and which could be targeted to promote the effects of those drugs. The finding, published in Nature Communications, explains a vexing problem in glioblastoma, which has proven impervious to immune checkpoint inhibitors.
---
Studying early signs of dementia in younger patient population
A new  study from the Duke-UNC Alzheimer's Disease Research Center, a NIH-funded Center of Excellence, will enroll 540 participants in early to middle adulthood and assess their cognition as they age and determine their genetic risk factors.
---
Predicting aneurysm rupture
A cerebrovascular surgeon is studying emerging imaging tools to predict aneurysm rupture.
---
Kudos
Chris Shaffrey, MD, receives the Cushing Award; Nicole Calakos, MD, PhD, elected to National Academy of Medicine.
---
Spine surgery and high impact chronic pain
A study of more than 40,000 lumbar spine surgery recipients evaluated the prevalence and outcomes of high impact chronic pain (HICP), including factors associated with transitioning to or maintaining HICP postoperatively.
---
Center of Excellence
Duke University Hospital has been named a Center of Excellence for the treatment of brain abnormalities called cerebral cavernous malformations in both adults and children.
---
RNA-based editing tool
Researchers develop an RNA-based editing tool that targets individuals cells, rather than genes, and  could allow for modifying cell functions to manage neurological disease.
---
Brain tumor risk study
A new study suggests where Hispanics trace their roots affects glioma incidence.
---
New chair of the Department of Neurosurgery talks about the future
On Gerald Grant's mind: Cross-campus collaboration, resident education, and taking advantage of Duke's prowess in bench-to-bedside.
---
Brain metastasis
Study suggests laser interstitial thermal therapy (LITT) plus stereotactic radiotherapy (SRT) is superior to LITT or repeat SRT alone for the treatment of brain metastasis recurrence after SRT failure.