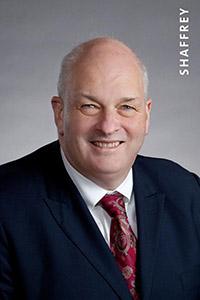 Christopher Shaffrey, MD, chief of the Duke Spine Division, has received the American Association of Neurological Surgeons (AANS) Cushing Award for Technical Excellence and Innovation in Neurosurgery for 2022. The award was presented at the AANS Annual Scientific Meeting, held April 27-May 2, 2022 in Philadelphia.
The Cushing Award honors an AANS member for technical prowess and skill and/or innovation in the development of new procedures that have become part of the arsenal a neurosurgeon uses to treat disease or trauma.
Board-certified in the fields of neurosurgery and orthopaedic surgery, Shaffrey is a world-renowned physician-scientist who has an active research interest in spinal surgery, particularly in multicenter research studies of pediatric and adult scoliosis, spinal cord injury, spinal trauma, and tumors involving the spinal column. He is currently a deputy editor for both the journals Spine and Spine Deformity. He has more than 450 publications, more than 1,000 national and international presentations, and has served as editor for several textbooks on spinal surgery.
He received his medical degree from the University of Virginia in 1986 and completed his general surgical internship at Naval Hospital San Diego. He completed his residencies in neurosurgery and orthopaedics, followed by a spine fellowship in pediatric and adult reconstructive spine surgery at the University of Virginia.
Following completion of his surgical training he began his career in the departments of Neurological Surgery and Orthopaedic Surgery at Henry Ford Hospital, followed by a professorship at the University of Washington in Seattle and in 2003, he returned to the University of Virginia as professor of neurological surgery and director of the Neurosurgery Spine Division.
In 2018, Shaffrey was named chief of Duke's Spine Division, a collaboration between the departments of Neurosurgery and Orthopaedic Surgery.
In 2019, Shaffrey was named president of AANS at its annual meeting in San Diego, April 13-17, 2019.