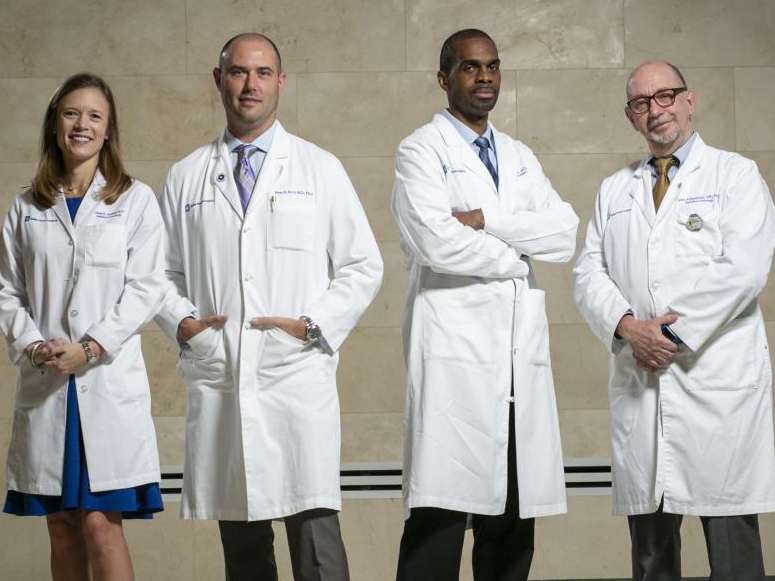 As people are now surviving longer and longer with cancer, many of them come to see their cancer spread to their brain or spine. The Duke Center for Brain and Spine Metastasis (DCBSM) brings together a multidisciplinary team of experts who seek new answers for these patients. Duke offers some of the most advanced surgeries and treatments, even for pa­tients who may have been told they are out of such options. Launched in 2017, the DCBSM is now the fastest-growing clinical program at Duke. It is led by neurosurgeon Peter Fecci, MD, PhD, (DCBSM director); neurosurgeon Rory Goodwin, MD, PhD, (surgical director); medical oncologist Carey Anders, MD, (medical director); and radiation oncologist John Kirkpatrick, MD, PhD (radiation director).
A Multidisciplinary Team
Specialists from neurosurgery, medical oncology, radiation oncology, and palliative care all work together seamlessly to design cutting edge treatment plans, tailored to each patient. Such individualized care is meant to deliver the best possible outcome while always still honoring the values and goals of patients. Patients meet with providers from each specialty on the same day to maximize efficiency and establish a team-based approach to care. All team members are constantly communicating with each other and with the patient through an assigned patient navigator, who helps guide patients on their care journey.
Combining the expertise of physicians from different sub-specialties creates a synergy that dramatically benefits patients. At weekly tumor board meetings, providers pool their knowledge to arrive at the very best combination of treatments for each patient. Patients have access to the latest treatments and technologies available today, including advanced stereotactic radiosurgery (SRS) techniques and laser interstitial thermal therapy (LITT). Duke is a leading site nationally for each of these, particularly LITT,  a minimally invasive surgical technique that kills tumors using heat generated by lasers. Rather than physically cutting out a tumor, surgeons drill a small hole in the skull and insert a laser probe, which is then used to heat and kill the tumor. LITT can also be used to treat tissue that's been damaged by previous radiation.
Caring for the Whole Patient
While the DCBSM team is one of the best in the world at providing cancer care, it is the person receiving that care that remains our primary concern. We work to understand our patients and their goals, always keeping the patient experience as central to what we do. As examples:
Palliative care providers are part of each patient's team, offering a range of services, from pain relief to end-of-life planning.

To reduce stress for patients, the center strives to see new patients within 72 hours, and to streamline their complex care once treatment begins.

New patients see all the members of their team sequentially in one day, usually in the same clinic.

New-patient coordinators and patient navigators coordinate care for patients.
Clinical Trials and New Discoveries
The DCBSM offers a broad range of clini­cal trials examining new treatments to patients with brain and spine metastasis. Many of the studies at Duke are open exclusively to this patient population, which has traditionally had few options at other locations.
For patients with spinal metastasis, a research registry led by Dr. Goodwin catalogs data on tumor genetics, treatment, and patient-reported outcomes related to quality of life. This registry helps develop and answer research questions, includ­ing those that directly address patient concerns.
Dr. Anders leads a project to sequence the genes of banked brain tumors to better understand similarities and dif­ferences among metastases arising from different types of primary cancer. Amongst other benefits, such work will help to reveal optimal treatment regimens and the likelihood of a treatment response.
Research from Dr. Fecci's team aims to prevent brain tumors from evading the im­mune system. For instance, his group is currently screening compounds to find a drug that prevents "T-cell sequestration," a novel phenomenon by which brain tumors send out signals that cause important immune players called T cells to become trapped in bone marrow, where they can no longer attack the tumor. This would represent an entirely new class of anti-cancer drug.