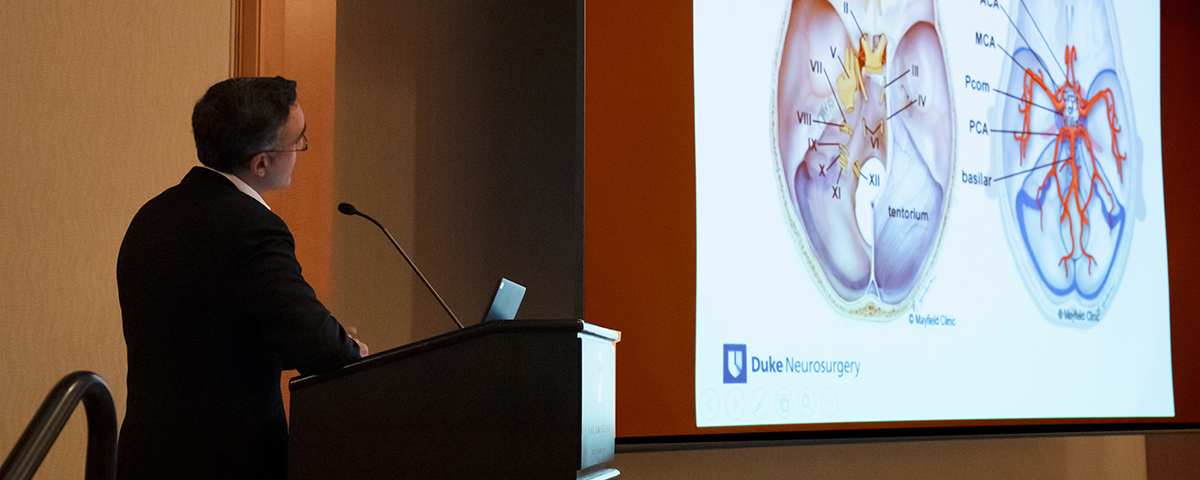 Duke's cerebrovascular and skull base neurosurgeons are part of a multidisciplinary team that specializes in cerebrovascular conditions such as brain aneurysms, anterior skull base tumors, arteriovenous malformations, carotid stenosis, Moya Moya disease, stroke, trigeminal neuralgia. The team combines the most advanced imaging technology with sophisticated surgical experience. 
Duke's cerebrovascular team is the region's leading resource for brain health emergencies, including aneurysms and stroke. Duke University Hospital is a certified by the American Hospital Association as a Comprehensive Stroke Center, and as national leaders in stroke research, Duke's stroke specialists help to write the national guidelines for stroke prevention and treatment.
Duke University's skull base surgery team has been named a Multidisciplinary Team of Distinction  by the North American Skull Base Society (NASBS). This designation recognizes a multidisciplinary approach to patient care by a comprehensive team of sub-specialists.
Faculty in the Cerebrovascular and Skull Base Division