As a medical student, you have access to a number of unique information programs and opportunities to engage our world-class faculty, researchers, staff and alumni.
Whether you are studying within the Duke University School of Medicine or you are a student elsewhere, we encourage you to explore your interests with us.
Mentorship Program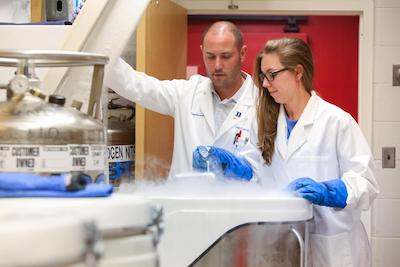 We strongly encourage students to considering shadowing faculty in their clinics and operating rooms for more one-on-one career mentoring.
Students can select faculty with similar specialized interests (clinical faculty interests are listed in their faculty profiles). Students work with the faculty and design a shadowing routine that is convenient for both parties.
Interest Groups
Duke's NSIG (Neurosurgery Interest Group) meets monthly to hear neuro-related career talks given by Duke faculty. All interested medical students are encouraged to attend.
Duke's Brain School group meets about once a week in an informal setting to discuss interesting topics relevant to neurosurgery. This seminar-like meeting is for medical students at all stages who want to explore neurosurgery-related topics in more detail.
For more information about Brain School, please contact Dr. Allan Friedman​.
Faculty Lectures
Our faculty lecture in numerous courses and seminars throughout campus. Faculty lectures provide good opportunities to hear about clinical and research work in a more formal setting.
Students are encouraged to contact the courses and seminars directly for times and locations. Opportunities include the School of Medicine course Brain and Behavior (offered each January) and the neurosurgery residency case conferences during the Academic Day (every Wednesday).
Research Opportunities
Several faculty have well-established laboratories in the basic sciences and more translational areas of neurosurgery research. Numerous students have spent summer rotations or their entire third year in our laboratories.
Contact Us
The Duke Neurosurgery program has a long and successful tradition in the training of neurosurgeons throughout the history of American neurosurgery, including those just starting to investigate the process during medical school. We encourage you to consider the program after you have completed your basic surgical and medical rotations in medical school, as this will allow you to make the most of your time with us.
We encourage you to contact any current neurosurgery resident or the department administration with questions:
Sherolyn L. Patterson
Residency Program Coordinator
sherolyn.patterson@duke.edu
919-684-3053