Thank you for your interest in Duke's Neurosurgery Residency Program 
We accept applications through the Electronic Resident Application Service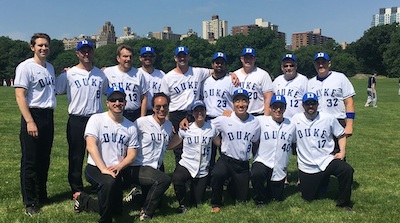 Duke offers three new neurosurgical resident positions per year.
Our residency is a seven-year program, which includes one year of basic science, clinical research, or a Master's thesis. The seventh year is set aside for a CAST-approved or other governing body fellowship.
Duke participates in the Neurosurgery Residency Matching Program (NRMP) and accepts applications through the Electronic Resident Application Service (ERAS).
Please note that there has been a national change in policy regarding passing United States Medical Licensing Examination step examinations, and all residents must now pass steps 1 and 2 CS prior to starting their internship (PGY-1) year.  There is a current waiver on the step 2 CK exams now given NBME suspension due to the COVID-19 pandemic. See the Duke GME Web site for more details about this policy.
For details, please see the NRMP Web site.  
Interview Process
Each year we receive more than 300 applications for our three resident positions in neurosurgery. Based on these applications, we select approximately 50-60 applicants to formally interview with our team. We have three interview periods each year, in November, December, and January.
The 2022-23 interview dates are
November 12, 2022
December 10, 2022
January 14, 2023 
For more information please contact:
Sherolyn L. Patterson
Department of Neurosurgery, Residency Program Coordinator
Duke University Medical Center
Box 3807
Durham, NC 27710
sherolyn.patterson@duke.edu
919-684-3053