Our clinical services team includes 20 neurosurgeons and more than 25 advanced practice providers who are engaged in all clinical sub-specialties of neurosurgery at Duke's three hospitals (Duke University Hospital, Duke Regional Hospital and Duke Raleigh Hospital) and at specialty clinics throughout the area. We strive to provide the best possible care in the most convenient locations in order to meet the needs of our patients and their families.
Our locations include:
Duke University Hospital & Duke Medical Pavilion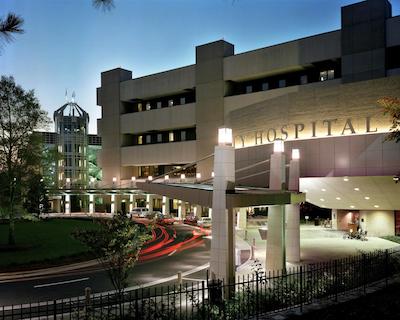 Duke University Hospital has been recognized as one of the world's greatest health care providers by such publications as TIME and U.S. News & World Report. A full-service tertiary and quaternary care hospital, Duke University Hospital is a 919-bed general medical and surgical facility ranked nationally in 13 adult and 10 pediatric specialties. Duke Medical Pavilion is a state-of-the-art, 8-floor critical care and surgery expansion unit for Duke University Hospital.
Duke Clinic
Duke Clinic houses many of Duke's renowned specialty services in a single building located near the Duke University School of Medicine, Duke University Hospital and Duke Medical Pavilion. Our neurosurgical multidisciplinary care teams see patients in the Duke Neurological Disorders Clinic (Clinic 1-L) and the Duke Spine Center (Clinic 1B/1C).
Preston Robert Tisch Brain Tumor Center at Duke & Duke Cancer Center
Duke Children's Hospital
Duke's pediatric neurosurgery team offers care to infants, children and adolescents with neurosurgical disease at Duke Children's Hospital. They care also for adults with congenital or childhood-onset neurosurgical diseases.
Duke Regional Hospital
At Duke Regional Hospital, you'll receive a world-class level of care delivered in a hometown environment of warmth and comfort. Our emergency room and 369-bed care hospital has been serving the health care needs of Durham, Orange, and surrounding counties for nearly 40 years.
Duke Regional Hospital Brain and Spine Surgery
Neurosurgeons at Duke Regional Hospital Brain and Spine Surgery treat a wide range of brain and nerve system conditions including brain tumors, skull base tumors such as acoustic neuromas, spine and musculoskeletal conditions, movement disorders, chronic pain and more.
Duke Neurosurgery of Raleigh & Duke Raleigh Hospital
Duke Neurosurgery of Raleigh offers a multidisciplinary team of experts specializing in complex diseases of the brain and spine. Patients have access to all of the advantages of a large academic hospital including the cutting-edge research and treatments provided by faculty members of Duke's Department of Neurosurgery and the Preston Robert Tisch Brain Tumor Center, offered in a convenient and inviting local setting adjacent to Duke Raleigh Hospital.
Durham Veterans Affairs Medical Center