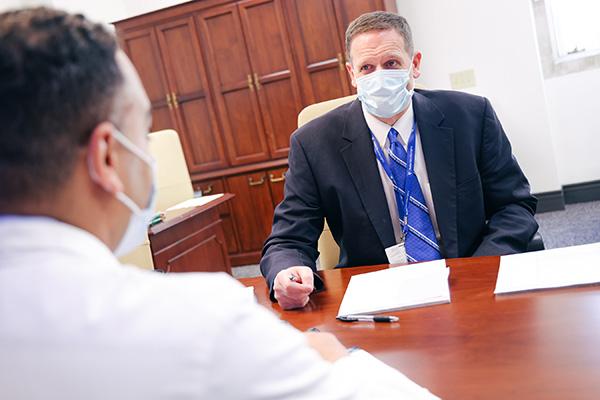 Gerry Grant, MD, may be one of the biggest Duke fans there is -- basketball, yes, but that's just the beginning. "It's a place that made me who I am today," says the Duke University alumnus who became chair of the Duke Department of Neurosurgery on April 1, 2022.
A rich background -- which included time in the US Air Force and Iraq and as an endowed professor, associate dean, and chief of pediatric neurosurgery at Stanford University-- contributed to the making of Grant into an outstanding leader poised to take Duke Neurosurgery to new and exciting directions.
In this interview, Grant talks about his experiences, his approach to patient care, his work in the lab, and his hopes and dreams for the future.
Where did your big love for Duke come from?
I've been a very loyal Dukie, and a huge Duke basketball fan, since my undergrad years here. Everyone knows that about me, and everywhere I go people know I bleed Duke blue. It's a special place that made me who I am today and prepared me for this journey. As a little secret, I was also in the Duke pep band as a sax player, which means I never missed a game.
When did you serve in the Air Force?  
I took my oath as second lieutenant when I was a senior at Duke, before going on to medical school at Stanford. I was in the inactive reserves during medical school and residency, but after residency I started my time on active duty at Lackland Air Force Base, the flagship Air Force hospital, in San Antonio Texas.  I was one of only two pediatric neurosurgeons in the entire military at the time and we were fortunate to care for families based all over the world.
My father enlisted in the Air Force, and before I came to Duke as an undergraduate, I strongly considered the Air Force Academy. I have always been interested in aviation, and I learned to fly on my own when I was in medical school at Stanford. I was thinking about being an astronaut, but neurosurgery won out.
Were you deployed overseas?
I was deployed as a combat neurosurgeon initially to Landstuhl, Germany, during Fallujah and then to Iraq during Operation Iraqi Freedom. There was an Air Force theater tent hospital set up at Balad Air Force Base, north of Baghdad, to care for U.S. and coalition troops, Iraqi National Guard, and detainees.
The experience of working shoulder to shoulder with others in the deployed environment was life changing. It taught me so many lessons how to work as a team to operate in an austere environment that was changing minute to minute. The mission was so pure -- no billing, no trainees, just save lives, every day, 24/7, for six months. The opportunity to care for blast injuries when the playbook was not yet written was transformative for my surgical skills, my leadership, and my ability to make difficult decisions that had impact on great survival. 
You began your clinical practice at Duke in 2006 before going to Stanford Medicine in 2013. Describe the practice you have built over your career and your areas of focus.
I particularly focus on childhood and young adult brain and spinal cord tumors, epilepsy, Chiari malformations in all ages, moyamoya disease, and concussion.
Brain tumors and epilepsy combine my expertise in brain mapping of speech, language, and motor function which is an area of great importance to me and my research. This work includes open surgery or minimally invasive laser ablation. Chiari malformation -- a condition defined by the cerebellum (or mini brain) bulging down below the bottom of the skull -- has been an area of focus for several years. At Duke we are building a comprehensive center that incorporates sleep medicine, pain management, psychology, innovative neuroimaging, and quality of life measures. I am involved in many patient-advocacy groups nationally and internationally, since Chiari affects so many people and can have lifelong implications with or without surgery. Our goal is to maximize quality of life – that's what's most important.
At Stanford, I also led a large concussion effort we built for kids and athletes, and I'm interested in fostering the same collaborations with Duke Sports Medicine. Care for concussion means connecting families to concussion experts, physical therapists, neurologists, optometrists. It's not simple.
What do you focus on in your lab?
My laboratory focuses on the blood-brain barrier, which is a very important layer of defense to protect the brain, but which also prevents the delivery of important therapy to the brain. If there is tumor margin that can't be resected surgically in order to protect one's quality of life, we need to follow surgery with chemotherapy to reach the brain tumor.  My laboratory focuses on how we can open the blood-brain barrier for a short time in areas of the tumor to deliver promising targeted agents and then close it to protect the brain.
How did you come to consider a department chairmanship?
I trained at a premier neurosurgery residency program at the University of Washington under the tutelage of Dr. Richard Winn, which groomed leaders in our neurosurgery profession who are now chairs across the country. I also credit the Stanford Medicine Leadership Academy. It was a great 18-month journey sponsored by Lloyd Minor, the dean of the School of Medicine and taught by Geno Schnell from Johns Hopkins.  This program allowed for soul searching about how to be a more effective leader and included networking with leaders from Stanford and across Silicon Valley. I then accepted the position as associate dean of faculty affairs within the Stanford School of Medicine under the leadership of Vice Dean Linda Boxer and got even more excited about the prospect of becoming a chair, in order to focus on other people's success and building a sense of community.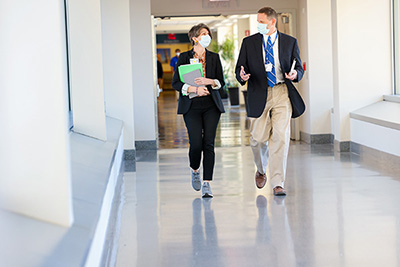 What do you hope to do as chair of Duke Neurosurgery?
Duke Neurosurgery is an amazing team of people with exceptional cranial and spinal neurosurgeons and superb basic and translational scientists. The next chapter is to think about how to bring teams together and how to break down silos. I hope to foster collaborations within the department and across campus – bioengineering, for example. I advocate a team-based culture which largely stems from my military days. I recognize that everyone has a role and contributes -- including all staff, nurses, administration, and health system leaders.
I'm super excited about our residency program and educational mission. Every meeting with the residents has left me with more excitement. We aim to build the very best training program in the country. We have great program leadership in place, and I am optimistic for the future of Duke Neurosurgery. All the necessary pieces are here to make this program soar. I want to first focus on building proper team culture, and as an alumnus of this program, support for well-being during the full seven years a resident is here and beyond.
I hope to bring a renewed sense of energy to push the envelope in order make new discoveries, with ongoing collaborative support from Dean Mary Klotman; Chancellor Eugene Washington, and Executive Vice President Craig Albanese.
What Duke is great at is bench to bedside: making discoveries in the lab and translating those ideas into a clinical trial --- all at Duke. Duke is nimble enough to take great ideas that have promise to impact a patient's life and move things quickly into the clinic.
Finally, nothing we do matters unless we pay attention to the patient experience, starting at the referral process and at every step along the way. My goal is to understand the patient experience from start to finish, because it's not enough for a patient to get great care, they must have trust to know that they are getting the best possible care at Duke Neurosurgery.