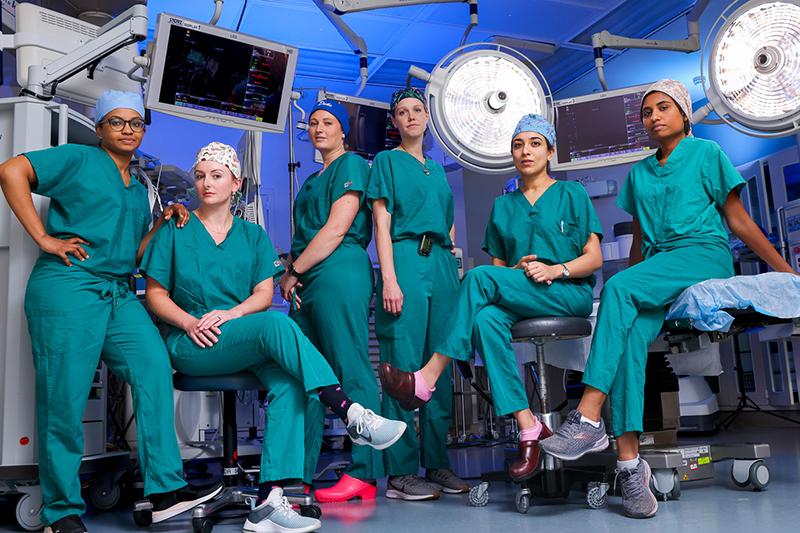 September is Women in Medicine Month
In the United States, women make up about 6% of neurosurgeons, and about 16% of neurosurgery residents. Although this number is growing, there is still a sizable gender disparity in residents training to be neurosurgeons.
Between 2005 and 2010, there were a total of 1130 males and 173 females matching neurosurgery. (Donaldson, et al.).
At Duke, women make up one-third of the residents in the Department of Neurosurgery. Each of them brings a unique set of interests, perspectives, and backgrounds, to the benefit of the program and their patients. Here's more about them.
Pictured, left to right: Drs. Jihad Abdelgadir, Kelly Ryan Murphy, Tara Dalton, Samantha Spellicy, Alankrita Raghavan, Mounica Paturu. Not pictured: Kennedy Carpenter.
---
Kelly Ryan Murphy, MD, Post-Graduate Year 6
Medical school: Duke University
The most fascinating thing about the brain: That we can "cut" into it at all, and things can ever go well! It is a surprisingly forgiving organ, until it's not.
The best part of being in the medical field: The best (and most intimidating) part of being in the medical field is the absolute privilege of joining a person at their most critical hour, on a journey of malaise that they never desired. We as physicians attempt to guide them through this time with dignity, offering as much of our time and compassion to them as possible.
Obstacles you had to overcome: Growing up, my mom emphasized the values of hard work and resilience as she raised my sister and me as a single mother who taught high school chemistry. She did not care if we made a "good living" for ourselves, rather she cared if we
"did good" for others—a necessity of vocation, of serving the community with the talents we develop.
Favorite pastime: Golfing—if only I practiced more! So many beautiful courses nearby.
Jihad Abdelgadir, MBBS, MSc, Post-Graduate Year 5
Medical school: University of Khartoum (Khartoum, Sudan)
Your research interests:  Health economics and health care utilization. We don't have infinite resources, so efficient use of resources to maximize health benefits is important, now more than ever. It's a tough topic for physicians where we could use guidance and empirical evidence, especially in neurosurgery. 
One thing you're very proud of: My daughter
Lose sleep or skip a meal? Skip a meal, definitely.
Kennedy Carpenter, MD, Post-Graduate Year 2
Medical school: University of Queensland (Brisbane, Australia)
What is the most fascinating thing about the brain? That there will always be something more to learn about it.
Why Duke? Duke is a leader in global neurosurgery and provides opportunities that are rare in most residencies. Duke will allow me to obtain a master's degree and a fellowship, in addition to the standard of becoming a competent surgeon.
Your research interests: Global neurosurgery, particularly pediatric neurosurgery in low- to middle-income countries
Favorite pastime: Baking. I like converting people who don't have a sweet tooth.
Tara Dalton, MD, MSc Post-Graduate Year 1
Medical school: Duke University
The most fascinating thing about the brain: There are so many pathologies in the field of neurosurgery that still require major medical progress (gliomas, deficits following stroke, and spinal cord injury, just to name a few). It's exciting to be in a field of medicine that is seeking to address these and improve the lives of patients.
Advice to women interested in neurosurgery: Think about your relationships with mentors as longitudinal. Even though there will be discrete time periods when you require their help more, or when you will be working on a focused project, maintaining relationships has helped me tremendously when breaking into this field.
Mentors: Rory Goodwin, MD, PhD (Duke), Theresa Williamson, MD (Harvard), Alex Suarez, MD (Duke), and Allan Friedman, MD (Duke), whom I've known since I became involved in the CAPE program [a Duke program that gives female student-athletes exposure to the field of medicine] have all been so influential on my career.
Favorite pastime: Going for a run on the American Tobacco Trail with a friend, followed by coffee and breakfast.
Samantha

Spellicy, MD, PhD, Post-Graduate Year 1
Medical school: Medical College of Georgia
Most fascinating thing about the brain: I think the cytoarchitecture and organization is fascinating. It's always so striking how a small lesion in a critical important area of eloquent tissue can cause profound effects on a patient, while at the same time, large swaths of cortex can be damaged without deleterious long-term effects.
Obstacles you had to overcome: I had to work multiple jobs through high school and college to afford school, housing, transportation, etc. Often, I would be working more than three jobs at once, working in a lab, and trying to excel in my classes. Looking back, I am extremely grateful for this experience because it forced me to be organized, time efficient, and personally motivated.
One thing you're very proud of: I was able to share my grandfather's experience with cerebrovascular disease with the world through a TEDx talk in March 2021. He devastatingly passed away just three weeks after my talk. This experience was extremely transformative for me and keeps me motivated to help patients just like him.
Twitter or Instagram? I have met so many wonderful people on Twitter, so Twitter for sure!