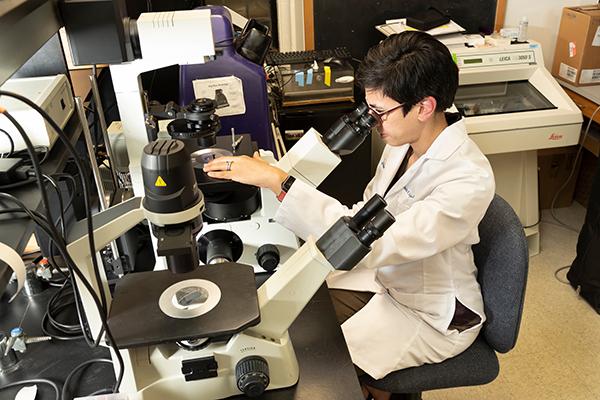 Giselle Lopéz, MD, PhD, of the Preston Robert Tisch Brain Tumor Center at Duke has been named to the American Society of Clinical Pathology's "40 Under 40."
The program recognizes members under the age of 40 for their achievements and leadership qualities that are making an impact on pathology and laboratory medicine.
Lopéz is a physician scientist with a clinical focus on neuropathology. She has a research interest in oligodendrogliomas – tumors which are invasive and eventually progress to high grade. Specifically, she is focused on assessing biomarkers that are predictive of progression-free survival and overall survival.
"Identifying these markers can help predict which tumors will behave aggressively and which ones will grow more slowly, ensuring patients receive the correct treatment at the correct time," say López. "This enables us to identify patients who would benefit from early aggressive treatment." And for other patients, knowing that their tumor is growing slowly may mean they can delay chemotherapy and radiation and have another day without the complications of these treatments.
Lopéz is also working to identify new therapeutic targets for oligodendroglioma  using multi-omics approaches. These approaches include spatial transcriptomics, single nucleus RNA sequencing, and other modalities to identify pathways associated with increased proliferation and stemness. Lopez and team are bringing new oligodendroglioma cell lines in house to rapidly validate these findings in an in vitro model system.
Forty pathologists, laboratory professionals, and residents are chosen annually through an application or nomination process. The program has recognized worthy members of the laboratory team both nationally and internationally.