Principal Investigator
Assistant Professor in Neurosurgery
Assistant Professor of Pathology
Member of the Duke Cancer Institute

Overview
Understanding the molecular biology of brain tumors to improve the lives and outcomes of patients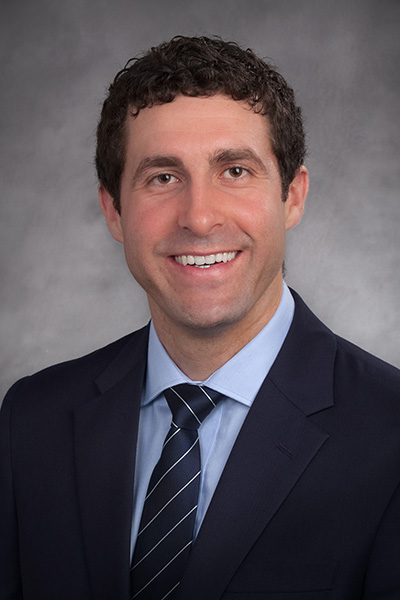 The Waitkus Laboratory is a team of researchers focused on understanding the molecular biology of malignant brain tumors. We work alongside clinician-scientists in the Preston Robert Tisch Brain Tumor Center at Duke to investigate the mechanisms by which brain tumors arise, progress, and recur. 
Adult and pediatric malignant gliomas are caused by specific sets of genetic mutations that allow tumor cells to (1) proliferate indefinitely, (2) obtain and utilize nutrients to grow, and (3) evade normal anti-tumor protective mechanisms, such as programed cell death and immune surveillance. In the Waitkus Laboratory, our overarching goal is to better understand the mechanisms underlying the pathogenesis and progression of malignant gliomas. We aim to use this knowledge to develop improved methods for glioma diagnosis, prognostication, and treatment. 
Research Initiatives
Telomere Maintenance Mechanisms in Cancer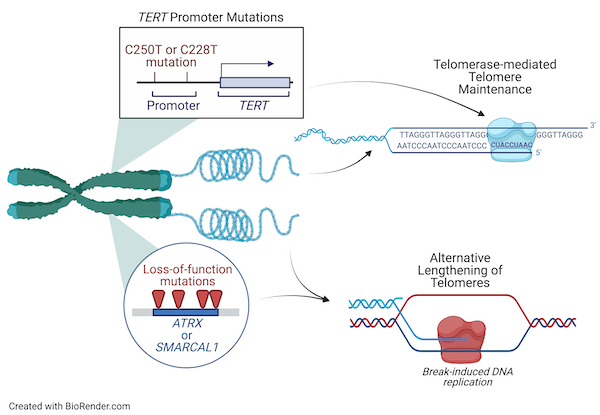 Our laboratory is focused on understanding the genetic alterations and molecular mechanisms underlying telomere maintenance and cellular immortalization in gliomas and other cancers. Our previous work identified loss-of-function mutations in SMARCAL1 and ATRX as drivers of the Alternative Lengthening of Telomeres phenotype in adults whose tumors are wildtype for other glioma driver genes, such as IDH1/2 and the TERT promoter (TERTp). Our current work aims to understand how SMARCAL1 and ATRX loss-of-function mutations lead to ALT in cancer and to understand the role of specific DNA damage response proteins and replication fork remodeling enzymes in glioma cell proliferation and response to DNA damaging agents. 
Role of IDH1/2 Mutations in Gliomagenesis and Therapy Response
We are interested in better understanding brain tumor cell metabolism and the metabolic consequences of glioma-associated IDH1/2 mutations. In particular, we seek to better understand the impact of IDH1/2 mutations on tumor progression, therapeutic response, and modulation of the tumor microenvironment. Our previous studies revealed that expression of IDH1-R132H mutation causes widespread metabolic reprogramming in brain tumor cells, including alterations in amino acid metabolism and glutaminolysis. We are currently investigating the extent to which mutant IDH-mediated metabolic alterations influence the sensitivity of glioma cells to radiation and chemotherapies. Additionally, we are using genetically engineered cell lines and in vivo models to identify and exploit IDH mutant-dependent metabolic sensitivities for glioma therapy.
Identifying and Developing Novel Strategies for Precision Neuro-Oncology
Modern genomics approaches have revealed the genetic mutations underlying the pathogenesis of gliomas but more work is needed to link specific mutational signatures to highly efficacious therapies. In the Waitkus laboratory, we seek to identify novel drug targets and develop new biomarker-guided therapeutic strategies for patients with brain tumors. We are particularly interested in cancers that use the Alternative Lengthening of Telomeres (ALT) as a mechanism of cellular immortalization. We are currently conducting studies to identify synthetic lethal vulnerabilities that are associated with the ALT phenotype in both pediatric and adult malignant gliomas.
Publications
View our publications in PubMed and Google Scholar
Selected Publications
TP53 wild-type/PPM1D mutant diffuse intrinsic pontine gliomas are sensitive to a MDM2 antagonist.
Xu C, Liu H, Pirozzi CJ, Chen LH, Greer PK, Diplas BH, Zhang L, Waitkus MS, He Y, Yan H. Acta Neuropathol Commun. 2021 Nov 3;9(1):178. PMID: 34732238; PMCID: PMC8565061.
A Modified Nucleoside 6-Thio-2'-Deoxyguanosine Exhibits Antitumor Activity in Gliomas.
Yu S, Wei S, Savani M, Lin X, Du K, Mender I, Siteni S, Vasilopoulos T, Reitman ZJ, Ku Y, Wu D, Liu H, Tian M, Chen Y, Labrie M, Charbonneau CM, Sugarman E, Bowie M, Hariharan S, Waitkus M, Jiang W, McLendon RE, Pan E, Khasraw M, Walsh KM, Lu Y, Herlyn M, Mills G, Herbig U, Wei Z, Keir ST, Flaherty K, Liu L, Wu K, Shay JW, Abdullah K, Zhang G, Ashley DM. Clin Cancer Res. 2021 Sep 30. PMID: 34593527.
Targeting Isocitrate Dehydrogenase Mutations in Cancer: Emerging Evidence and Diverging Strategies.
Waitkus MS, Yan H. Clin Cancer Res. 2021 Jan 15;27(2):383-388. PMID: 32883741.
The integrated genomic and epigenomic landscape of brainstem glioma.
Chen LH, Pan C, Diplas BH, Xu C, Hansen LJ, Wu Y, Chen X, Geng Y, Sun T, Sun Y, Zhang P, Wu Z, Zhang J, Li D, Zhang Y, Wu W, Wang Y, Li G, Yang J, Wang X, Xu C, Wang S, Waitkus MS, He Y, McLendon RE, Ashley DM, Yan H, Zhang L. Nat Commun. 2020 Jun 17;11(1):3077. PMID: 32555164; PMCID: PMC7299931.
Targeting Mutant PPM1D Sensitizes Diffuse Intrinsic Pontine Glioma Cells to the PARP Inhibitor Olaparib.
Wang Z, Xu C, Diplas BH, Moure CJ, Chen CJ, Chen LH, Du C, Zhu H, Greer PK, Zhang L, He Y, Waitkus MS, Yan H. Mol Cancer Res. 2020 Jul;18(7):968-980. doi: 10.1158/1541-7786.MCR-19-0507. Epub 2020 Mar 30. PMID: 32229503.
CRISPR Editing of Mutant IDH1 R132H Induces a CpG Methylation-Low State in Patient-Derived Glioma Models of G-CIMP.
Moure CJ, Diplas BH, Chen LH, Yang R, Pirozzi CJ, Wang Z, Spasojevic I, Waitkus MS, He Y, Yan H. Mol Cancer Res. 2019 Oct;17(10):2042-2050. doi: 10.1158/1541-7786.MCR-19-0309. Epub 2019 Jul 10. PMID: 31292202; PMCID: PMC6774824.
Non-invasive sensitive brain tumor detection using dual-modality bioimaging nanoprobe.
Liu Y, Carpenter AB, Pirozzi CJ, Yuan H, Waitkus MS, Zhou Z, Hansen L, Seywald M, Odion R, Greer PK, Hawk T, Chin BB, Vaidyanathan G, Zalutsky MR, Yan H, Vo-Dinh T. Nanotechnology. 2019 Jul 5;30(27):275101. doi: 10.1088/1361-6528/ab0e9c. Epub 2019 Mar 11. PMID: 30856613; PMCID: PMC6948110.
Hereditary brain tumor with a homozygous germline mutation in PMS2: pedigree analysis and prenatal screening in a family with constitutional mismatch repair deficiency (CMMRD) syndrome.
Baig SM, Fatima A, Tariq M, Khan TN, Ali Z, Faheem M, Mahmood H, Killela P, Waitkus M, He Y, Zhao F, Wang S, Jiao Y, Yan H. Fam Cancer. 2019 Apr;18(2):261-265. PMID: 30478739.
Sensitive and rapid detection of TERT promoter and IDH mutations in diffuse gliomas.
Diplas BH, Liu H, Yang R, Hansen LJ, Zachem AL, Zhao F, Bigner DD, McLendon RE, Jiao Y, He Y, Waitkus MS, Yan H. Neuro Oncol. 2019 Mar 18;21(4):440-450. PMID: 30346624; PMCID: PMC6422442.
Biological Role and Therapeutic Potential of IDH Mutations in Cancer.
Waitkus MS, Diplas BH, Yan H. Cancer Cell. 2018 Aug 13;34(2):186-195. PMID: 29805076; PMCID: PMC6092238.
The genomic landscape of TERT promoter wildtype-IDH wildtype glioblastoma.
Diplas BH, He X, Brosnan-Cashman JA, Liu H, Chen LH, Wang Z, Moure CJ, Killela PJ, Loriaux DB, Lipp ES, Greer PK, Yang R, Rizzo AJ, Rodriguez FJ, Friedman AH, Friedman HS, Wang S, He Y, McLendon RE, Bigner DD, Jiao Y, Waitkus MS, Meeker AK, Yan H. Nat Commun. 2018 May 25;9(1):2087. PMID: 29802247; PMCID: PMC5970234.
Adaptive Evolution of the GDH2 Allosteric Domain Promotes Gliomagenesis by Resolving IDH1R132H-Induced Metabolic Liabilities.
Waitkus MS, Pirozzi CJ, Moure CJ, Diplas BH, Hansen LJ, Carpenter AB, Yang R, Wang Z, Ingram BO, Karoly ED, Mohney RP, Spasojevic I, McLendon RE, Friedman HS, He Y, Bigner DD, Yan H. Cancer Res. 2018 Jan 1;78(1):36-50. PMID: 29097607; PMCID: PMC5754242.
Cic Loss Promotes Gliomagenesis via Aberrant Neural Stem Cell Proliferation and Differentiation.
Yang R, Chen LH, Hansen LJ, Carpenter AB, Moure CJ, Liu H, Pirozzi CJ, Diplas BH, Waitkus MS, Greer PK, Zhu H, McLendon RE, Bigner DD, He Y, Yan H.  Cancer Res. 2017 Nov 15;77(22):6097-6108. PMID: 28939681; PMCID: PMC5690824.
Mutant IDH1 Disrupts the Mouse Subventricular Zone and Alters Brain Tumor Progression.
Pirozzi CJ, Carpenter AB, Waitkus MS, Wang CY, Zhu H, Hansen LJ, Chen LH, Greer PK, Feng J, Wang Y, Bock CB, Fan P, Spasojevic I, McLendon RE, Bigner DD, He Y, Yan H. Mol Cancer Res. 2017 May;15(5):507-520. PMID: 28148827; PMCID: PMC5415422.
Isocitrate dehydrogenase mutations in gliomas.
Waitkus MS, Diplas BH, Yan H. Neuro Oncol. 2016 Jan;18(1):16-26. PMID: 26188014; PMCID: PMC4677412.
Personnel
Matthew Waitkus, PhD
Assistant Professor of Neurosurgery
Department of Neurosurgery, Duke University School of Medicine
The Preston Robert Tisch Brain Tumor Center
Member, Duke Cancer Institute
Alexandrea Brown, MS
Laboratory Research Analyst I
Elise Erman, PhD
Postdoctoral Associate
Margarita Krylova
Undergraduate Student
Laura Strickland, MS
Research Animal Coordinator
Research Analyst II and Lab Manager
Lab Alumni
Taher Khambati
Former undergraduate researcher, Graduation with Distinction in Neuroscience, Duke University
Currently: Associate consultant, Bain & Company
Alexis Zachem
Former undergraduate researcher, Graduation with Distinction in Neuroscience, Duke University
Currently: MD candidate, Icahn School of Medicine at Mount Sinai