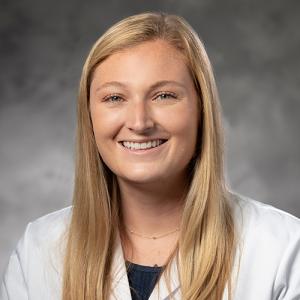 PGY-1
Education
Duke University School of Medicine, MD 2022
Duke University School of Medicine, MSc, 2017
Duke University, BS, Neuroscience, 2015
Honors and Awards
All-ACC Academic Honor Roll, 2011-2015
Duke Women's Rowing Mary Beth Nebel Award, 2014
Duke Women's Rowing Senior Captain Award, 2015
NREF & Aaron Cohen-Gadol Medical Student Summer Fellowship, 2022
The Bassett Society Scholar & Scholarship Recipient, 2022
Research Interests
Neuro-oncology, spine oncology, frailty in neurosurgical patients, and leadership development in physicians
Hobbies
Rowing, long distance running, true crime documentaries and podcasts, and all things food related!
Publications
Peer-Reviewed Publications
*denotes co-first author
Dalton T, Snyder L, Buckley EB, Smith P. (2022) Pretransplant Frailty, Postoperative Delirium, and Short Term Outcomes Among Older Lung Transplant Recipients. Experimental Gerontology. doi: 10.1016/j.exger.2022.111781
Dalton T, Sykes D, Wang TY, Donnelly D, Gupta D, Wiggins W, Abd-El-Barr MM. (2021)Robotic-Assisted Trajectory into Kambin's Triangle during Percutaneous Transforaminal Lumbar Interbody Fusion (percLIF) – Initial Case Series. Operative Neurosurgery. doi: 10.1093/ons/opab325
DeFilipp Z, Peled JU, Li S, Mahabamunuge J, Dagher Z, Slingerland AE, Del Rio C, Valles B, Kempner ME, Smith M, Brown J, Dey BR, El-Jawahri A, McAfee SL, Spitzer TR, Ballen KK, Sung AD, Dalton, TE, Messina JA, Dettmer K, Liebisch G, Oefner P, Taur Y, Pamer EG, Holler E, Mansour MK, van den Brink MRM, Hohmann E, Jenq RR, Chen YB. (2018). Third-party fecal microbiota transplantation following allo-HCT reconstitutes microbiome diversity. Blood Adv, 2(7), 745-753. doi:10.1182/bloodadvances.2018017731
Kang JH, Price M, Dalton T, Ramirez L, Fecci PE, Kamal AH, Johnson MO, Peters KB, Goodwin CR. Palliative Care Use for Critically Ill Patients with Brain Metastases. Journal of Pain and Symptom Management, Online ahead of print. doi: 10.1016/j.jpainsymman.2021.05.003
Lipp, E. S., Healy, P., Austin, A., Clark, A., Dalton, T., Perkinson, K., Herndon, J. E., Friedman, H. S., Friedman, A. H., Bigner, D. D., McLendon, R. E. (2019). MGMT: Immunohistochemical Detection in High-Grade Astrocytomas. Journal of Neuropathology and Experimental Neurology, 78(1), 57-64. doi:10.1093/jnen/nly110
Price M, Baëta C, Dalton T, Nguyen A, Lavau C, Pennington Z, Sciubba DM, Goodwin CR. Animal Models of Metastatic Lesions to the Spine: a Focus on Epidural Spinal Cord Compression. World Neurosurgery. doi: 10.1016/j.wneu.2021.07.121.
Price MJ, Goodwin J, De La Garza R, Baeta C, Dalton T, McCray E, Abd-El-Barr M, Karikari IO, Yessari R, Goodwin A, Goodwin CR. Gender Disparities in Clinical Presentation, Treatment, and Outcomes in Metastatic Spine Disease. Cancer Epidemiology. 2020.doi:10.1016/j.canep.2020.101856
Price M, Howell EP, Dalton, T, Ramirez L, Howell C, Williamson T, Fecci P, Anders CK, Check DK, Kamal AH, Goodwin CR. Inpatient palliative care utilization for patients with brain metastases. Neuro-Oncology Practice. 2021.  https://doi.org/10.1093/nop/npab016
Price MJ, Tillis R, Howell EP, Ramirez L, Dalton T, Baeta C, Mehta V, Abd-El-Barr MM, Karikari I, Goodwin CR, Brown, DA. Muscle flap closures in spine surgery: predictors of usage patterns and factors associated with post-operative complications from the NSQIP database. Clinical Spine Surgery. 2021. (Accepted, awaiting publication)
*Racioppi A, *Dalton T, Ramalingam S, Romero K, Ren Y, Bohannon L, Consuelo A, Jonassaint J, Miller H, Barak I, Fish LJ, Choi T, Gasparetto C, Long GD, Lopez RD, Rizzieri DA, Sarantopoulos S, Horwitz ME, Chao NJ, Shah NR, Sung AD. Assessing the Feasibility of a Novel mHealth App in Hematopoietic Stem Cell Transplant Patients. Biology of Blood and Marrow Transplantation. 2020. doi:10.1016/j.jtct.2020.10.017
Saullo JL, Li Y, Messina JA, Thompson J, Dalton T, Giri VK, Reed SD, Miller R, Horwitz M, Alexander B, Sung AD. Cytomegalovirus in Allogeneic Hematopoietic Transplantation: Impact on Costs and Clinical Outcomes Using a Preemptive Strategy. Biol Blood Marrow Transplant. 2019.doi: 10.1016/j.bbmt.2019.11.005
Sung AD, Hassan S, Cardona DM, Wild D, Nichols KR, Mehdikhani H, Balmadrid B, Detweiler CJ, Shealy M, Cirrincione C, Li Z, Poleski M, Dalton TE, Siamakpour-Reihani S, Chao NJ  Sullivan KM. (2018). Late Gastrointestinal Complications of Allogeneic Hematopoietic Stem Cell Transplantation in Adults. Biology of Blood and Marrow Transplantation, 24(4), 734-740. doi:10.1016/j.bbmt.2017.12.772
Waguia R, Wang TY, Mehta V, Ramirez L, McCray E, Pennington Z, Price M, Dalton T, Baëta C, Sciubba DM, Karikari IO, Abd-El-Barr MM, Goodwin CR. Risk Factors for prolonged legnth of stay in patients undergoing surgery for intramedullary spinal cord tumors. Journal of Clinical Neuroscience.
Wang TY, Mehta VA, Dalton T, Sankey EW, Goodwin CR, Karikari IO, Shaffrey C, Than KD, Abd-El-Barr MM. (2020). Biomechanics, evaluation, and management of subaxial cervical spine injuries: A comprehensive review of the literature. Journal of Clinical Neuroscience. doi:10.1016/j.jocn.2020.11.004
Wang TY, Park C, Dalton T, Rajkumar S, McCray E, Owolo E, Than KD, Abd-El-Barr MM. (2021) Robotic navigation in spine surgery: Where are we now and where are we going? Journal of Clinical Neuroscience. Doi: 10.1016/j.jocn.2021.10.034