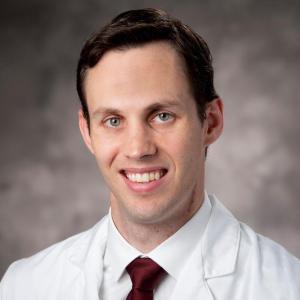 PGY-5
Education
The Ohio State University, MD, 2019
The Ohio State University, PhD, Immunology, 2017
Duke University, BS, Chemistry, 2011
Research Interests
Cancer immunology, functional neurosurgery, spinal prosthetics
Hobbies
Neurosurgery, family, soccer, lawn care
Publications
Bergin SM

, Wang TY, et al

. Pseudarthrosis rate following anterior cervical discectomy with fusion using an allograft cellular bone matrix: a multi-institutional analysis.

JNS Focus 2021

Bergin SM

, Xiao R, Huang W, Judd CRT, Liu X, Mansour AG, Queen N, Widstrom KJ, Caligiuri MA, Cao L. Environmental activation of a hypothalamic BDNF-adipocyte IL-15 axis regulates adipose- natural killer cells. Brain Behavior Immunity. 2021
Wang TY, Price M, Mehta VA, Bergin SM, Sankey EW…. Preoperative optimization for patients undergoing elective spine surgery. Clin Neurol Neurosurg. 2021
Mansour AG, Xiao R, Bergin SM, Huang W, Chrislip LA, Zhang J, Ali S, Queen NJ, Caligiuri MA, Cao L. Enriched environment enhances NK cell maturation through hypothalamic BDNF in male mice. Eur J Immunol. 2021
Park D, Bergin SM, Jones D, et al. Ablation of the Brca1-Palb2 interaction phenocopies Fanconi anemia in mice. Cancer Research. 2020
Sankey EW et al. … Bergin SM, … Peri-operative Assessment of Cerebellar Masses and the Potential for Cerebellar Cognitive Affective Syndrome: A Review of the Literature. World Neurosurgery. 2020
Blaszczak AM, Bernier M, Wright VP, Gebhardt G, Anandani K, Liu J, Jalilvand A, Bergin SM, Wysocki V, Somogyi A, Bradley D, Hsueh WA.

Obesogenic Memory Maintains Adipose Tissue Inflammation and Insulin Resistance.

Immunometabolism

. 2020

Blaszczak AM, Wright VP, Anandani K, Liu J, Jalilvand A, Bergin SM, Nicoloro SM, Czech MP, Lafuse W, Deng T, Bradley D, Hsueh WA. Loss of Antigen Presentation in Adipose Tissue Macrophages or in Adipocytes, but Not Both, Improves Glucose Metabolism. Journal of Immunology. 2019.
Xiao R*, Bergin SM*, Huang W, Mansour AG, Judd RT, Widstrom K, Caligiuri MA, Cao L. Enriched environment regulates thymocyte development and alleviates experimental autoimmune encephalomyelitis in mice. Brain, Behavior and Immunity. 2019

Bergin SM

, Dunn AL, Smith LG,

Drapeau AI. Management of Hydrocephalus in Infants with Severe Hemophilia A: Two Case Reports. Journal of Neurosurgery: Pediatrics. 2018.

Deng T,

Liu J, Deng Y, Minze L, Xiao X, Wright V, Yu R, Li XC, Blaszczak A,

Bergin SM, DeSilvestro D, Judd RT, Caligiuri MA, Hsueh W. Adipocyte MHCII stimulates diet-induced adipose inflammation and insulin resistance by decreasing regulatory T cell abundance in adipose tissue" Nature Communications. 2017.
Xiao R*, Bergin SM*, Huang W, Slater A, Judd R, Scoville S, Chen L, Caligiuri MA, Cao L. Environmental and genetic activation of hypothalamic BDNF modulates T-cell immunity to exert an anticancer phenotype. Cancer Immunology Research. 2016.
Deng T, Lyon CJ, Bergin SM, Caligiuri MA, Hsueh WA. Obesity, inflammation, and cancer. Annual Review of Pathology: Mechanisms of Disease. 2016.
Scoville SD, Mundy-Bosse BL, Zhang MH, Chen L, Zhang X, Keller KA, Hughes T, Chen L, Cheng S, Bergin SM, Mao HC, McClory S, Yu J, Carson WE, Caligiuri MA, Freud AG. A Progenitor Cell Expressing Transcription Factor RORγt Generates All Human Innate Lymphoid Cell Subsets. Immunity. 2016.
Alvarez-Breckenridge CA, Yu JH, Price R., Wei M, Nowicki MO, Yoonhee P, Bergin SM, Hwang C, Kauer B, Caligiuri MA, Chiocca EA. The HDAC inhibitor valproic acid lessens NK cell action against oncolytic virus-infected glioblastoma cells with inhibition of STAT5/T-BET signaling and IFNgamma generation. Journal of Virology. 2012.

Bergin SM

, Rathmell AR, Charbonneua P, Wiley BJ. The effect of nanowire length and width on the properties of transparent conducting films. NanoScale. 2012.
Rathmell AR, Bergin SM, Hua YL, Li ZY, Wiley BJ. The growth mechanism of copper nanowires and their properties in flexible, transparent conducting films. Advanced Materials. 2010.
*Indicates co-first authorship