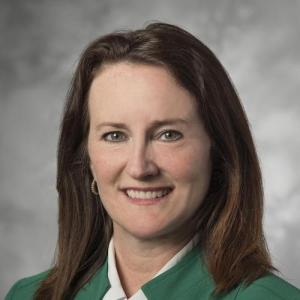 Chief Administrator
Office: 200 Trent Drive, Blue Zone, Suite 1554, Durham, NC 27710
Mailing Address: Box 3271, DUMC, Durham, NC 27710
Kathy joined Duke Neurosurgery in May 2015 and was named the first Chief Administrator when it was officially established as a department in July 2015. Previously, she served as Administrator for the Division of Hematologic Malignancies and Cellular Therapy, from 2008-2015. 
She holds a Bachelor of Arts in Economics from the University of North Carolina at Chapel Hill and a Master of Business Administration and a Master of Science in Health Care Administration from University of Maryland.
Kathy began her career working for the United States Senate Finance Committee on Capitol Hill, where she spent five years leading issues on Welfare Reform and Income Security.  She was recruited by the Governor of Michigan to work for Michigan State Government working on welfare reform and later health care issues.  She returned to North Carolina, working first for the North Carolina Department of Health and Human Services leading strategic planning, and then as the finance director for the Department of Pharmacy at Rex Healthcare. 
Kathy serves as the Southeast Regional Director for the Neurosurgery Executives Resource Value and Education Society (NERVES) as well as the NERVES Liaison to the AANS Practice Management Committee and former chair of the Education Committee.