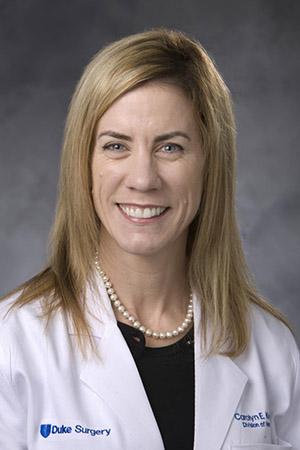 Celebrating Women's History Month
Before Carolyn Keeler, DO, was a doctor, she was a dancer. Once, when she was in college, she had a neck spasm that left her unable to turn her head. With a performance just hours away, she sought out physical therapy, and went from being unable to move her neck to dancing that same night. This experience and so many others made clear the power of nonsurgical treatments for spine conditions, and she shares that knowledge today with her patients.
Keeler remembers learning about the field of physical medicine early on, and knew it was a fit for her. This branch of medicine, also known as physiatry, focuses on non-surgical methods to treat patients, including medication and physical therapy.
"I've always been more interested in health than disease," she says. This means that not only pain reduction but prevention and nutrition are priorities.
As a provider at the Duke Spine Center, Keeler's practice centers on neck and back pain, "But, we are at Duke, so I see everything," she says. This includes spine deformity, kids with scoliosis, dance related injuries, even cancer. She will work with patients of Duke spine tumor specialist Rory Goodwin, MD, PhD, and values the opportunity to make people's lives better. "Anything you can do to have an impact on quality of life is so important."
She also recognizes that quality of life means different things from patient to patient. "What I've learned from my patients is that everyone comes in with different perspective and life experience, and in order to help I have to know some of that, and they have to trust me enough to share," says Keeler. "For example, one patient might want to be able to mow their lawn, and another may be training for a triathlon. A patient might be taking care of two generations, or have experienced a significant life trauma."
In addition to treatment, most patients want reassurance. "They'll ask, 'Am I going to get worse?' As soon as I hear that, I can feel the weight on their shoulders, and I take that opportunity to reassure that we all get older, but it doesn't mean we have to get worse. We can manage, not perfectly, but well. It's about hope."
Keeler received her medical degree from Touro University College of Osteopathic Medicine, and did her residency at New York University. She was a spine fellow at Cleveland Clinic, and also completed a fellowship in integrative medicine at University of Arizona College of Medicine. She is currently studying for a Master of Public Health degree at University of North Carolina.
Reflecting on her career thus far, and on Women's History Month, Keeler says she's always had people to help her along each stage of her career path, and she's happy to see the increased emphasis by our society on women in leadership roles. "Not just women, but women of color," she says.  "And transgender women. It's just really important that when we talk about women we talk about all women.  Investment in representation from all groups will make us better as a country."