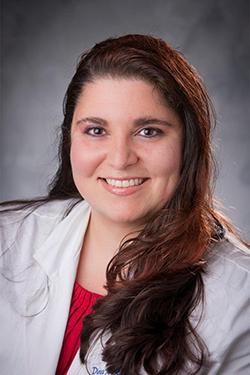 Dina Randazzo, DO, Assistant Professor of Neurosurgery and Neurology and member of the Duke Cancer Institute, passed away on February 20, 2021.
Dr. Randazzo was a respected and admired neuro-oncologist in the Preston Robert Tisch Brain Tumor Center. A physician-scientist, she was the principal investigator on numerous publications aimed at understanding and treating glioblastoma, an aggressive form of cancer of the brain and spine. Dr. Randazzo was adored by her patients and used her expertise in complementary therapies to provide a holistic approach to caring for them. She was also a beloved teacher and mentor, inspiring many young neurologists to pursue the field of neurooncology because of her example of service and hope.
Dr. Randazzo graduated from Lake Erie College of Osteopathic Medicine in 1998 before completing a residency in Neurology at University of Florida at Jacksonville from 2010 to 2013. She then completed a fellowship in Neuro-Oncology at Duke University from 2013 to 2014 before joining the faculty of the School of Medicine.
Our thoughts go out to the family and many friends of Dr. Randazzo. The family requests that those who wish to honor Dr. Randazzo do so by donating to the Preston Robert Tisch Brain Tumor Center (Angels Among Us) at http://dccc.convio.net/goto/dina /checks to Tisch Brain Tumor, Box 3624 DUMC, Durham, NC 27710 or the Pancreatic Cancer Action Network at https://www.pancan.org/contact-us/
A viewing for Dr. Randazzo will be held on Tuesday, February 23, from 4-9 p.m. at Clements Funeral Service Inc., 1105 Broad St, Durham, NC 27705, followed by a service on Wednesday, February 24, at 9:30 a.m. at St. Thomas More Catholic Church, 940 Carmichael St, Chapel Hill, NC 27514.