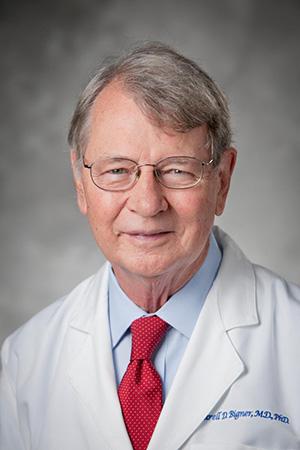 Getting to Know You: 
Darell Bigner, Director Emeritus of the Preston Robert Tisch Brain Tumor Center at Duke
The year Darell Bigner, MD, PhD, came to Duke, Martin Luther King Jr. delivered his "I Have a Dream Speech" and President Kennedy was assassinated. It was 1963, and Bigner had transferred to Duke School of Medicine for one primary reason: to pursue brain tumor research. This is the field to which Bigner would devote his entire career, moving it forward to an extent that must have been hard to imagine in these early years.
"I didn't know there was such thing as a brain tumor until I took a pathology course in my second year of medical school," says Bigner. Although Duke's brain tumor program traces back to Dr. Barnes Woodhall's arrival from Johns Hopkins in 1937, the state of clinical care when Bigner arrived as a neurosurgery resident in the 1960s was still rudimentary. "We had no decent imaging modalities, surgery itself was primitive, the effect of radiation was not known, and there was no chemotherapy," he says.
Woodhall had stressed research since his arrival, and in the early years Duke was one of the few centers doing clinical investigation. Discouraged by the state of clinical care, Bigner shifted his focus to research – about the time he and his colleagues were being drafted to the Vietnam War. He went into the Navy before he was transferred to the Public Health Service where he spent two years. "I came back and tried to be a neurosurgery resident, but I knew I couldn't do both [research and patient care]."
He would go on to complete a PhD at Duke and was appointed assistant professor in pathology in 1972, and over the next decades would rise to lead the Preston Robert Tisch Brain Tumor Center at Duke.
For the last 46 years, his research has centered on the causes and treatment of brain tumors, including the investigation of new methods of therapy for primary brain tumors and those metastasizing to the central nervous system and its coverings.
All the while, Duke was making a name for itself in brain tumor research and care. "We've become the world's leader in immunological approaches to treating glioblastoma," he says.  "The Brain Tumor Center has become the largest in the country in terms of volume, and one of the best in terms of the quality of care. There's movement from the lab to the clinic and back again. It's a very integrated approach."
In 2007, Bigner received an honorary MD degree from the University of Lund, Sweden, for collaboration in brain tumor immunology; in 2008, he received an award in Molecular Neuro-Oncology from the Max Planck Institute in Germany; and in 2014, the Society for Neuro-Oncology presented Bigner with its Lifetime Achievement Award, recognizing significant contributions in neuro-oncology over his career.
John Sampson, MD, PhD, chair of the Department of Neurosurgery, praised Bigner's leadership and unwavering dedication to brain tumor research.  "Over the course of his career at Duke, he has helped develop many young investigators, including me," he said. "He has also impacted thousands of cancer patients world-wide through research advances that began here at Duke."
In February 2018, Bigner announced that he was stepping back from his role a director of the Preston Robert Tisch Brain Tumor Center at Duke, as he was named Director Emeritus. He continues his work in brain tumor research at Duke.
Although his administrative load at Duke might be lighter, his life will be no less full. He his wife Rita, who also works in neuro-oncology at Duke, live on 125-acre farm north of Hillsborough, NC. They grow and sell hay, and they recently added 700 chestnut trees. He already has buyers lined up for the chestnuts, including a Greek restaurant and a Chinese grocery. The farm is also home to a flock of chickens. "I pet them every night before I put them up," he says. He likes to hunt quail and deer, and he and Rita have a home on the Albemarle Sound where he fishes and crabs.