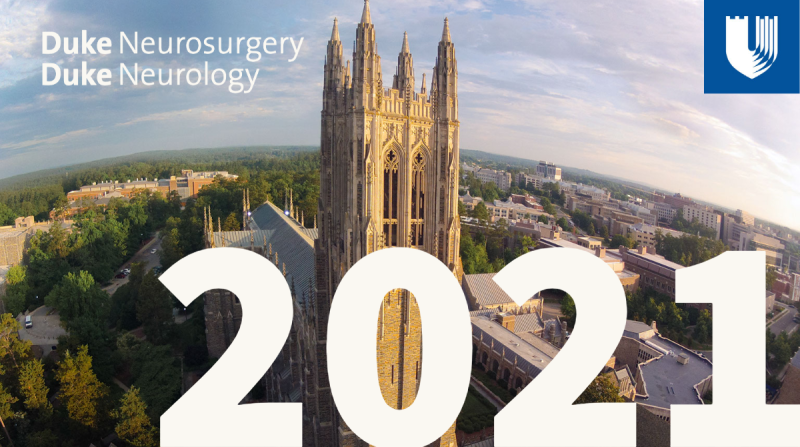 Glioblastoma, Alzheimer's, epilepsy, MIS, and more:
10 stories from Duke Neurosurgery and Duke Neurology that you may have missed in 2021
Duke Dept. of Neurosurgery announces a new chair
Gerald Arthur Grant, MD, has been named the new chair of the Department of Neurosurgery at Duke University School of Medicine, effective April 1, 2022.
An Alzheimer's Center
Duke University and the University of North Carolina at Chapel Hill have been awarded funds from the National Institutes of Health to establish an Alzheimer's Disease Research Center, part of a federally-funded national network of similar centers.
Recurrent GBM with few mutations responds best to immunotherapy
The finding from a genetic analysis of tumors treated with Duke's poliovirus therapy suggests a predictive biomarker for survival.
Advances in epilepsy treatment and research
Deep brain stimulation to treat patients with refractory epilepsy, and progress in interneuron transplantation research
The role of unemployment and disability on spine outcomes
An investigation of the influence of employment status on the outcomes of surgery for low-back related disorders
Robot-assisted percutaneous lumbar fusion
Using the robot to navigate Kambin's triangle safely
Management of glioblastoma
This review encompasses the latest advances in treatment for glioblastoma and future directions for precision oncology and immunotherapy approaches.
Special issue: Brain metastases
A special supplement to NeuroOncology Advances explores the multimodality management of brain metastases, including laser interstitial thermal therapy
Allan Friedman, MD, receives Cushing Award
The award honors "an AANS member for technical prowess and skill and/or innovation."
A most downloaded review
In February 2021, Nature announced that "Brain immunology and immunotherapy" was the 5th most downloaded review of 2020.