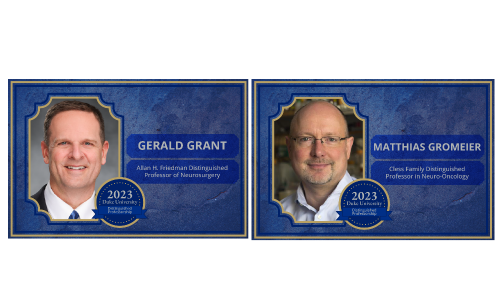 Duke University has awarded Distinguished Professorships to 44 faculty members, including Duke Neurosurgery's Gerald Grant, MD, and Matthias Gromeier, MD. The honorees were formally recognized by President Vincent Price and Interim Provost Jennifer Francis during a ceremony at the Washington Duke Inn on May 4. 
Distinguished Professorships recognize faculty scholars who are well-established members of the Duke academic community who have also achieved distinction as creative scholars in their field or in their ability to transcend disciplines.
Price noted the broad influence the awardees have had through their scholarship, by "shaping our understanding of the world, and advancing opportunities, solutions, and inventions to improve the human condition."
---
Gerald Grant,MD, has been named the Allan H. Friedman Distinguished Professor of Neurosurgery. He is a neurosurgeon, scientist, and chair of the Department of Neurosurgery.
Clinically, Grant specializes in treating brain tumors, medically refractory epilepsy, Chiari malformation, and concussion. He treats pediatric patients and young adults. His research focuses on innovative ways to open the blood-brain barrier to improve the delivery of novel drugs and immunotherapy to target brain tumors. 
Grant is an investigator on several initiatives funded by the National Institutes of Health (NIH) relating to brain tumors, focused ultrasound, brain tumor immunotherapy, and concussion. He is an author on 332 peer-reviewed journal articles, holds several leadership positions nationally, and serves on multiple editorial boards in neurosurgery.
---
Matthias Gromeier, MD, a scientist in the Preston Robert Tisch Brain Tumor Center at Duke and vice chair for research in the Department of Neurosurgery, has been named the Cless Family Distinguished Professor in Neuro-Oncology.
In his lab, Gromeier is exploring the science of immune rejection of tumors, spanning from basic mechanistic research of innate immune sensing to clinical translational cancer immunotherapy. His work is supporting an ambitious clinical translational research program targeting cancers that are resistant to all current standards of care.
Gromeier developed a way to re-engineer a poliovirus (PVSRIPO) to induce a response in the human immune system to attack brain tumors. The modified poliovirus received a breakthrough therapy designation from the Food and Drug Administration, expediting research.