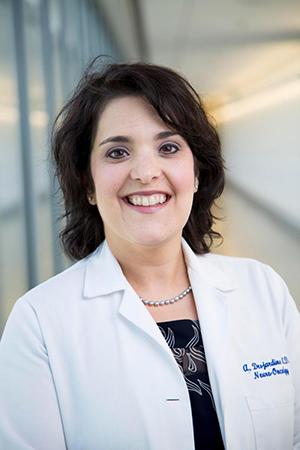 Some people fall into their life's work by serendipity or happenstance. Annick Desjardins, MD, FRCPC, is not one of those people.
As a child growing up in Quebec, Desjardins sold daffodils with her father and sister, to raise funds for the Canadian Cancer Society. In her kindergarten self-portrait, she drew herself in a lab coat, with a stethoscope. For a middle school research project on cancer, she brought in breast and testicle models (borrowed from the Cancer Society), to teach her classmates about self-exams.
"It was a calling," she says.
Today, Desjardins is a neuro-oncologist in the Duke Department of Neurosurgery. In her career, she's not only seen big changes in brain tumor treatments, she's been at the center of them.
Milestones
"In my career, the first big breakthrough for brain tumor patients was Avastin [bevacizumab]," she says. "By decreasing the vascularization of the tumor, this treatment reduces brain swelling, and patients don't need prolonged use of high dose steroids."
Steroids reduce brain inflammation, but not without a cost. They can destroy bone and muscle, and cause necrosis of the hips that leads to bone fracture. Treatment with steroids can also lead to rapid weight gain and swelling.
"I remember one of my first glioblastoma patients gained over 100 pounds because of the steroids," says Desjardins. "It had destroyed their body and self-esteem. So, with this drug, we are improving quality of life."
The second big breakthrough in Desjardins' career was one that she played a key role in: making immunotherapy work as an effective treatment for brain tumors.
Duke Neurosurgery researchers, including Desjardins, have received a great deal of attention for the groundbreaking work in treating patients with recurrent glioblastoma – one of the deadliest forms of cancer – with a modified poliovirus injected directly into the tumor, creating a targeted immune response. In a study published in 2018 in the New England Journal of Medicine, the therapy showed significantly improved long-term survival, with a three-year survival rate of 21 percent in a phase 1 clinical trial. Desjardins and colleague Matthias Gromeier, MD, were co-lead authors of the study.
"The ability to inject immunotherapy directly into the tumor, trigger tumor response, and not create additional side effects on the rest of the body was a huge victory," says Desjardins. "Before I moved to the U.S., in Canada I was doing research on blood brain barrier disruption. In order to cross the blood-brain barrier with chemotherapy, it takes very high doses of chemotherapy. Often patients die from the toxicity. But with injection into the tumor, there's no reaction in other parts of the body." Some patients, expected to live no more than six months, have an immune response and become long-term survivors.
Supporting Women
Desjardins came to Duke as a fellow in July 2003. She became part of the Neurosurgery faculty in 2005, and achieved the rank of professor in December 2020. She says she's proud of the accomplishment, and happy to be able to open the door to future women neuro-oncologists at Duke.
"So many people have helped me," she says. "I've had amazing mentors in the Brain Tumor Center and elsewhere who are always pushing me and believing in me, but before I came, it was a man's world. I've been lucky to have great women at Duke and outside Duke to help me find my voice."
She is happy to see the increasing emphasis on women's issues and diversity in general at Duke and in the entire country. She is an alumna of the Duke School of Medicine's ALICE program, which fosters leadership among women faculty.
Second Life
Along with her work, Desjardins has another passion – dance. And because she does nothing half way, she has worked very hard to become quite good at it.
Growing up she studied martial arts, but when she got to medical school, she couldn't keep up with the training, so it fell away. Ballroom dancing soon took its place. Within six months of arriving in Durham, she began taking lessons from a Ukrainian teacher who was also new to the country. They've been dancing together since 2004.
She dances competitively, in the Open Pro Am level, and studies under world renowned coaches and choreographers.
Many Duke colleagues first learned of her dance background at the Angels Among Us 5K in 2018. At the request of a donor, she organized a flash mob to appear at the event, which raises money for the Preston Robert Tisch Brain Tumor Center at Duke. A group of co-workers and friends performed a seemingly impromptu, professionally choreographed dance (by one of her coaches/choreographers), to get the walkers and runners pumped up and ready to go.
The joyousness of a sudden dance in a Duke parking lot, to help raise money for brain cancer research, in many ways sums up the essence of Annick Desjardins. "I've learned from my patients not to sweat the small stuff, but instead to focus on your true priorities."