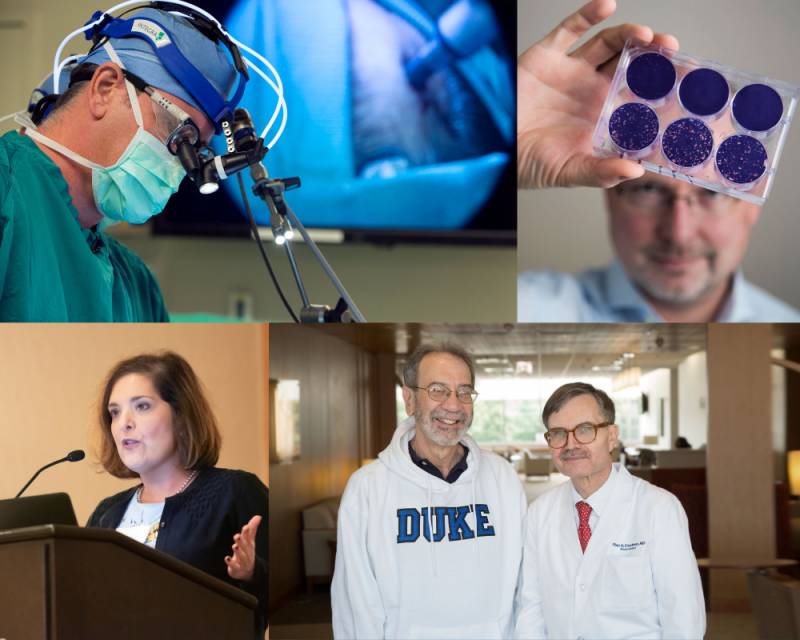 This year marks the 85th anniversary of the Preston Robert Tisch Brain Tumor Center at Duke, an institution at the forefront of advancing brain tumor treatment and science worldwide

.
Photo, clockwise from top left: John Sampson, MD, PhD; Matthias Gromeier, MD; Henry Friedman, MD, (left) and Allan Friedman, MD; Annick Desjardins, MD.
The Preston Robert Tisch Brain Tumor Center traces its beginnings to 1937, when Barnes Woodhall, MD, came to Duke as its first chief of neurosurgery (and the only neurosurgeon in North Carolina). He established at Duke one of the first brain tumor programs in the nation. In the 1950s, Woodhall became one of the first physicians to use chemotherapy and pioneered the use of animal models to test chemotherapy for the treatment of brain tumors.
Darell Bigner, MD, PhD, now director emeritus of the Preston Robert Tisch Brain Tumor Center, first arrived at Duke in 1963. Over the coming decades, he and other top figures in brain tumor research and treatment helped build the program's interdisciplinary approach, transforming brain tumor treatment everywhere.
In the 1980s, Duke researchers worked with the National Cancer Institute to establish the Brain Tumor Study Group, which introduced radiation therapy as a treatment option. In the 1990s, Duke's Henry Friedman, MD, worked with pharmaceutical companies and participated in national trials that led to the approval of the drug temozolomide, which significantly prolonged survival.


 

In 2007, a Duke pilot study found that bevacizumab—one of a new category of drugs which Duke studies had been shown to cut off tumors' blood supply—could slow the growth of glioblastoma multiforme (GBM), the most common and deadly form of brain tumor. In 2008, John Sampson, MD, PhD, presented evidence that a vaccine aimed at inducing immunity to GBMs may stave off recurrence and more than double survival times. And in 2018, a genetically modified poliovirus therapy developed at the Brain Tumor Center showed significantly improved long-term survival for patients with recurrent glioblastoma, with a three-year survival rate of 21 percent in a phase 1 clinical trial.


 

In 2022, David Ashley, MD, director of the Brain Tumor Center since 2018, announced the launch of the Brain Tumor Omics Program, with the goal of discovering more precise ways to look at tumor cells and their genetic makeup, to achieve faster diagnoses and better treatments.
As the advances have come from every angle, patients have come from all over to Duke's world-famous brain tumor team. And it truly had become a team, offering the most advanced treatments plus extensive support services. Today, specialists of all stripes work closely together to formulate the best treatment plan, increase the effectiveness of treatment, give the patient a better experience, and improve outcomes.
In addition to director David Ashley, MD, the Center is led today by deputy directors  Peter Fecci, MD, PhD, Allan Friedman, MD, and Henry Friedman, MD. The Center houses more than 250 full-time employees devoted exclusively to neuro-oncology and encompasses laboratory, clinical, and quality of life and supportive care research programs; patient and family support programs; administrative support services; and adult and pediatric clinical care services.