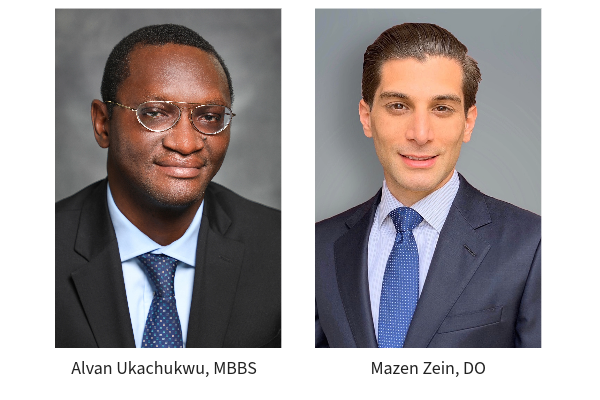 Alvan Ukachukwu, MBBS, MSc, has been named assistant professor in the Duke Department of Neurosurgery, effective September 1, 2023.
Originally from Nigeria, Ukachukwu obtained the MBBS degree from the University of Ibadan College of Medicine, Ibadan, Nigeria. He completed neurosurgery residency at the University College Hospital, Ibadan, and a fellowship with West African College of Surgeons. Ukachukwu's practice as a general neurosurgeon in Nigeria exposed him to the enormous challenges that patients, caregivers, and providers face in resource-constrained settings. This led him to the Duke Global Health Institute where he became engaged with Duke Global Neurosurgery and Neurology and obtained a Master of Science in Global Health. His thesis, Fulfilling the Specialist Neurosurgical Workforce Needs in Africa, explored the workforce, training, and infrastructural deficits in many African countries, projected the deficits to 2030, and proposed interventions to mitigate them.
Since joining Duke Neurosurgery as a research scholar in June 2021, his research interests have focused on building sustainable neurosurgical capacity in low- and middle-income countries through increased training, workforce development, technological transfers, service delivery, health financing, and health policy and systems strengthening. He will continue these global neurosurgery initiatives in his new role.
Mazen Zein, DO has been named assistant professor in the Duke Department of Neurosurgery, effective August 31, 2023. His clinical interests include interventional treatments for cancer pain, spine metastasis ablations, vertebral augmentation, regenerative medicine, neuro-modulation and generalized spondylosis of the spine & peripheral joints.
Mazen completed his internship at Henry Ford Health System and residency in Physical Medicine & Rehabilitation at the Rehabilitation Institute of Michigan at the Detroit Medical Center. He completed a Cancer Rehabilitation Medicine fellowship in the Department of Palliative, Rehabilitation and Integrative Medicine at the MD Anderson Cancer Center that focused on the functional restoration of a wide variety of cancer patients through prehabilitation, lymphedema treatment, interventional procedures, palliative and pain management. He worked extensively in the Brain & Spine Center within the Department of Neuro-Oncology & Neurophysiology performing electrodiagnostic studies.
He further completed a fellowship in the Department of Anesthesiology & Critical Care Medicine at Johns Hopkins Hospital in Interventional Pain Medicine. He worked in the Blaustein Pain Treatment Center evaluating and treating a diverse patient population/range of diagnoses including generalized spondylosis and arthritis of the spine and peripheral joints, cancer pain, and peripheral nerve damage.