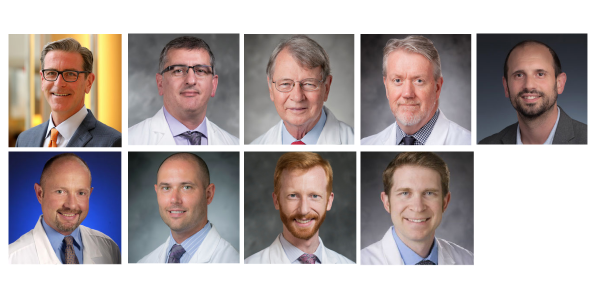 Duke Neurosurgery has been ranked fifth among the nation's neurosurgery departments, based on National Institutes of Health (NIH) research grant funding, with a total of $9,804,806 for 2021.
John Sampson, MD, PhD, was once again a top-funded researcher, ranking #2 in the country. Notably, eight other Duke Neurosurgery investigators were ranked among the most highly funded: (from top left):
John Sampson at #2 / David Hasan at #12 / Darell Bigner at #52 / David Ashley at #56 / Anthony Filiano at #152 / Matthias Gromeier at #179 / Peter Fecci at #192 / Patrick Codd at #199 / Eric Thompson at #241
Funding by the NIH funding is considered a strong indicator of the quality of an institution's research. NIH is the steward of medical and behavioral research for the nation. Its mission is science in pursuit of fundamental knowledge about the nature and behavior of living systems and the application of that knowledge to extend healthy life and reduce the burdens of illness and disability.