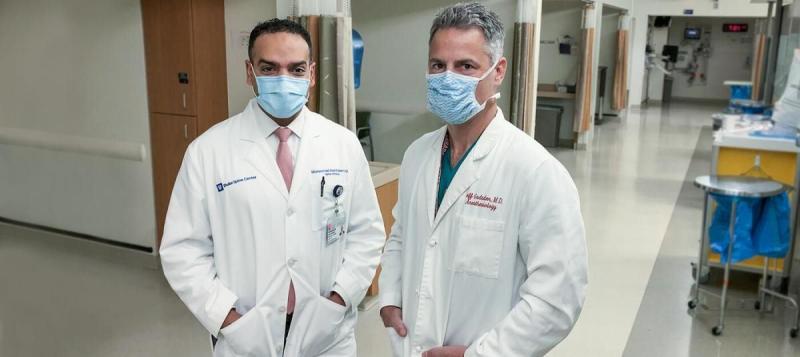 When you don't want to miss a thing
Janie Colvin of Fairfax, Virginia, had never had surgery, except for a C-section with her second child. So when the 63-year-old was facing spine surgery, the thought of going under general anesthesia made her uncomfortable in a way that was hard to describe.
"I did not want to be put to sleep," she said. "The thought of it just weirded me out. Maybe it's a control thing."
What Colvin didn't know was that the surgeon she had chosen to treat her back pain was one of the few in the country (and first at Duke) to perform spine fusion surgery without general anesthesia. After hearing her concerns, Duke neurosurgeon Muhammad Abd-El-Barr, MD, PhD,  offered her the opportunity to be awake during the surgery, and she jumped at the chance.
Jumping, however, was something Colvin couldn't actually do. The pain in her back had gotten so bad that she felt flashes with every step. She had been diagnosed with spondylolisthesis, a condition in which one vertebra slips forward from the bone below it. The vertebra can press on nerves and cause severe back pain or nerve crowding that produces leg pain or numbness. 
Colvin's online research led her to Abd-El-Barr. "He made me feel comfortable from the very first visit," she said. "He assured me that I had good reason to feel the way I did."
A procedure whose time has come
Although awake brain surgeries, also known as awake craniotomies, have been performed for years, awake spine fusion surgery is something new.
Awake craniotomies came about as a way to prevent harm to areas of the brain that directly control functions like vision, speech and movement, and is especially useful in cases where doctors know they will be performing surgery close to these areas. By keeping a patient awake during surgery, doctors can be sure that no damage has been done.
However, awake spine fusion surgery is most beneficial for patients who are at risk for adverse reaction or long recovery from general anesthesia. The first awake spine fusion surgery at Duke in November 2019 was the result of a request by another of Abd-El-Barr's patients. The patient, who was scheduled for a minimally invasive spine fusion, had had an adverse reaction to general anesthesia in the past, and asked Abd-El-Barr what else was possible.
It seemed to be just the right time for a novel approach – not only for patients who can't tolerate general anesthesia, but for a much larger segment of the patient population. The benefits of the surgery without general anesthesia include a quicker recovery and less time in the hospital.
"Eliminating the general anesthesia means faster recovery from surgery and fewer postoperative complications such as delirium, nausea, and vomiting," said Abd-El-Barr.
During a pandemic, these benefits are even more valuable. "COVID-19 has meant that more patients don't want to spend time in the hospital," said Abd-El-Barr. "If patients are walking, and there are no post-op problems, walking at home is always better than walking at the hospital."
Abd-El-Barr performed what he terms an awake spinal anesthetic robotic lumbar fusion to treat the patient's spondylolisthesis. Because the patient had not been completely under during surgery, he was discharged home in less than 24 hours after surgery. "He had been in horrible pain before the surgery and had to be brought in by wheelchair," said Abd-El-Barr, "and then he walked out of the PACU [post-anesthesia care unit], without ever spending time on a hospital floor."
Advances in surgery and anesthesia
For this new approach to work, according to Abd-El-Barr, two crucial pieces had to be in place: decreased tissue manipulation and advanced anesthesia methods.
Any procedure that requires access to the spinal nerves, vertebrae, and discs involves moving the muscle tissue. Advances in minimally invasive surgery have meant there is less tissue dilation and muscle dissection. In particular, with minimally invasive spine surgery, small incisions can allow access for instruments or microscopic cameras, rather than the traditional long incision. Robotics allows the surgeon to place instruments in the spine using a robot, taking away human variability and causing less trauma. Duke neurosurgeons first began performing robotic spine surgeries in early 2019.
"We knew we could do minimally invasive surgery safely and efficiently," said Abd-El-Barr.  Addressing anesthesia would be the next step. "We had to work closely with our anesthesiology colleagues to make sure we could do it with patient awake. The close collaboration we have with anesthesiology is critical for the success of these cases."
Jeffrey Gadsden, MD, associate professor of anesthesiology, became Abd-El-Barr's collaborator. "In order to help accelerate and enhance the recovery for these patients, we designed an anesthetic and pain management plan that relied heavily on the use of regional anesthesia techniques, rather than general anesthesia and opioid medications," Gadsden said.
The spinal anesthetic used by Gadsden and team allows the patient to be completely numb from trunk to toes, so they can be comfortable during surgery with only mild sedation. In addition, using a technique called the erector spinae plane (ESP) nerve block, local anesthetic is placed on both sides of the lumbar spine using ultrasound guidance. This blocks transmission of pain impulses from the muscles, bones and soft tissue of the lumbar spine, and keeps patients comfortable for several days following the operation.
Abd-El-Barr agreed that the regional anesthesia techniques were a game-changer. The long-acting anesthetics allow the pain block to release over two days. "Another advantage that we are seeing is that the spinal anesthesia wears off slowly, so the patients have more of a chance to acclimate to the inevitable pain, while with general anesthesia, it's an on/off phenomenon," he said.
During the procedure itself, some patients are alert enough to carry on a conversation.
In Colvin's case, she received an anesthetic block to the muscles in the back in pre-operative area, and once in the operating room received spinal anesthesia. She was relaxed enough during her procedure to take a nap, and she left the hospital four hours after surgery. 
Toward patient acceptance
According to Abd-El-Barr, there are a handful of surgeons offering this approach, but it is not common. After sharing his success stories among his peers locally, he connected through social media to Alok Sharan, MD, a spine surgeon in private practice in New Jersey, who had been performing the awake procedure for years with similar successes. This peer connection culminated in the two establishing a virtual study group. "I would say there are fewer than 10 people in the country doing this surgery," said Sharan. "This study group has been a great way to conference with other surgeons, including one in Italy and one in India, to share best practices."
One of the topics discussed by the group has been how to present the approach to as an option to all patients, even those for whom general anesthesia is not an issue, in order to take advantage of the quicker recovery.
However, not all patients warm up to the idea of being awake during spine surgery. "Some are extremely enthusiastic, and some say, 'Thank you, but no,'" said Abd-El-Barr, but he is confident that the numbers of this type of surgery will continue to grow.
Photo, left to right: Muhammad Abd-El-Barr, MD, PhD, neurosurgeon, and Jeffrey Gadsden, MD,  anesthesiologist.