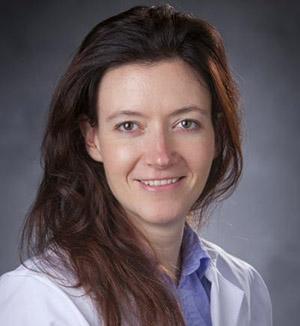 Alexa Bramall, MD, PhD, has been named assistant professor in the Duke Department of Neurosurgery, effective May 1, 2023.
Originally from Canada, she completed her doctoral and medical training at the University of Toronto, followed by residency and an enfolded fellowship in neurosurgical oncology at Duke Neurosurgery. 
Bramall is a clinician and basic science researcher. She specializes in the diagnosis and treatment of cerebrospinal fluid (CSF) flow disorders including adult hydrocephalus, both acquired and idiopathic. 
In the lab, Bramall is investigating the underlying mechanisms contributing to the development and maintenance of adult hydrocephalus, work which has been supported through an NINDS R25 grant. She has an interest in understanding how the brain responds to changes in intracranial pressure and is using a combination of cell culture, viral, and transgenic techniques with the goal of identifying novel non-invasive methods for modulating CSF dynamics.