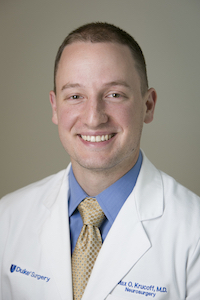 Current Position
Assistant Professor of Neurosurgery, Medical College of Wisconsin
Co-Director of Neurosurgical Oncology, Medical College of Wisconsin
Adjunct Faculty, Biomedical Engineering, Marquette University & Medical College of Wisconsin
Education
University of California San Francisco, Functional, Stereotactic & Epilepsy Neurosurgery Enfolded Fellowship
Duke University, Neurosurgical Residency
The George Washington University School of Medicine, MD, with distinction, 2013
Northwestern University, McCormick School of Engineering, BS, cum laude, Biomedical Engineering with minor in Jazz studies, 2009
Honors & Awards
Surgical Excellence Award, Duke Neurosurgery, 2019
NINDS R25 Research Education Grant, 2016-2017
Best Researcher, Duke Neurosurgery, 2016
Best Researcher, Duke Neurosurgery, 2015
Alpha Omega Alpha Honor Society, 2012
Medical Student Scholarship to the 63rd Annual Meeting of the American Academy of Neurology (AAN), 2011
American Academy of Neurology (AAN) Medical Student Summer Research Scholarship, 2010
Chamber Music America New Jazz Works Grant ($20,000) with the Moshier-Lebrun Collective, 2010
Best Research Award, Biomedical Engineering, Northwestern University, 2007
Departmental Honors, Biomedical Engineering, Northwestern University, 2007
Top Jazz Ensemble, Northwestern University, 2007
Tau Beta Pi Engineering Honor Society, 2005 – present
Research Interests
Functional mapping and modulation in brain tumor surgery; neurorestoration; brain-machine interfacing
Hobbies
Jazz drumset
Journal Articles
Krucoff MO, Wozny T, Lee A, Rao V, Chang E. Operative Technique and Lessons Learned from Surgical Implantation of the NeuroPace Responsive Neurostimulation (RNS)® System in 57 Consecutive Patients. Operative Neurosurgery. [accepted] May 2020;
Yadav AP, Li S, Krucoff MO, Lebedev MA, Muhammad M. Generating Artificial Sensations with Spinal Cord Stimulation in Primates and Rodents. bioRxiv [preprint]. 2020.
Wang TY, Harward SC, Tsvankin V, Bell H, Charalambous L, Adil SM, Englot DJ, Goodwin CR, Karikari IO, Isaacs RE, Krucoff MO. Neurological Outcomes after Surgical or Conservative Management of Spontaneous Spinal Epidural Abscesses: A Systematic Review and Meta-Analysis of Data from 1980 Through 2016. Clin Spine Surg. 2019;32(1):18–29.
Sergesketter AR, Elsamadicy AA, Lubkin DT, Krucoff KB, Krucoff MO, Muh CR. Characterization of perinatal risk factors and complications associated with nonsyndromic craniosynostosis. J Craniofac Surg. 2019;30(2):334–8.
Galan D, Monuszko K, Sankey EW, Zakare-Fagbamila R, Yang Z, Niedzwiecki D, Gottfried O, Bagley CA, Krucoff MO. Fibrin glue as an adjuvant dural sealant reduces the rate of perioperative complications in posterior fossa decompression with duraplasty: A single center experience in 165 adult Chiari I patients. J Clin Neurosci. 2019 Jul;68:80–5.
Krucoff MO, Miller JP, Saxena T, Bellamkonda R, Rahimpour S, Harward SC, Lad SP, Turner DA. Toward Functional Restoration of the Central Nervous System : A Review of Translational Neuroscience Principles. Neurosurgery. 2019;84(1):30–40. 
Sergesketter AR, Elsamadicy AA, Lubkin DT, Kemeny H, Harward SC, Krucoff KB, Krucoff MO, Fuchs H, Thompson EM, Allori AC, Marcus JR, Muh CR. Socioeconomic factors, perioperative complications, and 30-day readmission rates associated with delayed cranial vault reconstruction for craniosynostosis. J Craniofac Surg. 2018;29(7):1767–71.
M.O. Krucoff, A. Chan, S.C. Harward, S. Rahimpour, J. Rolston, C. Muh, D. Englot. "Rates and Predictors of Success and Failure in Repeat Epilepsy Surgery: A Meta-Analysis and Systematic Review." Epilepsia. December 2017.
B. Swan, L. Gasperson, M.O. Krucoff, W. Grill, D.A. Turner. "Sensory percepts induced by microwire array and DBS microstimulation in human sensory thalamus." Brain Stimulation. October 2017.
M.O. Krucoff, K. Zhuang, D.B. Macleod, A. Yin, Y.W. Byun, R.J. Manson, D.A. Turner, L. Oliveira, M.A. Lebedev. "A Novel Paraplegia Model in Awake Behaving Macaques." Journal of Neurophysiology. July 2017.
M.O. Krucoff, S. Cook, O. Adogwa, J. Moreno, S. Yang, J. Xie, A. Firempong, N. Lad, C. Bagley. "Racial, Socioeconomic, and Gender Disparities in the Presentation, Treatment, and Outcomes of Adult Chiari I Malformations." World Neurosurgery. January 2017.
M.O. Krucoff, S. Rahimpour, M. Slutzky, R. Edgerton, D. Turner. "Enhancing Nervous System Recovery Through Neurobiologics, Neural Interface Training, and Neurorehabilitation." Frontiers in Neuroscience. December 2016.
M.O. Krucoff, M. Chinn, P. Babington, Z. Litvack. "Controversial neuroendoscopic Monro foraminoplasty in the management of isolated lateral ventricle in an adult." Interdisciplinary Neurosurgery. June 2015.
R. Flint, P. Wang, Z. Wright, C. King, M.O. Krucoff, S. Schuele, J. Rosenow, F. Hsu, C. Liu, J. Lin, M. Sazgar, D. Millett, S. Shaw, Z. Nenadic, A. Do, M. Slutzky. "Extracting kinetic information from human motor cortical signals." Neuroimage. August 2014.
O. Adogwa, I. Karikari, K. Carr, M.O. Krucoff, D. Ajay, P. Fatemi, E. Perez, J .Cheng, C. Bagley, R. Isaacs. "Spontaneous Epidural Abscess in Patients 50-Years and Older: A 10-Year Institutional Perspective."  Journal of Neurosurgery: Spine. Dec 2013.
S. Khalsa, M. Chinn, M.O. Krucoff, and J. Sherman.  "The Role of Stereotactic Radiosurgery for Multiple Brain Metastases in Stable Systemic Disease: A Review of the Literature."  Acta Neurochirurgica. July 2013.
A. Cherian, M.O. Krucoff, L. Miller. "Motor cortical prediction of EMG: Evidence that a kinetic brain machine interface may be robust across altered movement dynamics."  Journal of Neurophysiology, Aug 2011.
E. Pierstorff, M.O. Krucoff, D. Ho. "Apoptosis Induction and Attenuation of Inflammatory Gene Expression in Murine Macrophages via Multitherapeutic Nanomembranes." Nanotechnology, July 2008.
Book Chapters
M.O. Krucoff, S.C Harward, S. Rahimpour, K. Dombrowski, E.F. Hauck, S.P. Lad, D.A. Turner. "Integrating Molecular, Cellular, and Systems Approaches to Brain Repair after Stroke." In Cellular and Molecular Approaches to Regeneration & Repair. Eds. P.A. Lapchak, J.H. Zhang. Springer Nature. 2018.