Nearly half a million people worldwide die of ruptured brain aneurysms every year, and half the victims are younger than 50.
In the United States alone, some 30,000 people each year suffer a brain aneurysm rupture, and the prognosis for most of them is very poor: four in 10 cases are fatal, and of those who survive, about two-thirds suffer permanent neurological damage. 
In February 2018, Duke University college student Justin Gelman suffered a ruptured brain aneurysm while in his dorm room. His family's experience with the Duke Neurosurgery team spurred them to create the Duke Brain Aneurysm Fund, with the mission of saving and improving lives by providing practitioners and caregivers beyond Duke with the advanced training and education necessary to ensure the best brain aneurysm care for everyone, everywhere.
As a result of these efforts, a Duke Brain Aneurysm Symposium was planned, and brought together clinicians, survivors, and families September 27-28, 2019.  After the success of this event, a second symposium was scheduled for September 24, 2020.
Justin's Story
In February 2018, at the age of 19, Duke University student Justin Gelman got the flu for the first time in his life. In addition to the body aches and fever, he developed a terrible headache – a typical symptom.
"The headache just wouldn't quit," said Justin. He called his parents in New Jersey. Together they agreed that Justin would go to the hospital and should call them when he arrived. An hour had passed.  He never called and wasn't answering his cell phone. Thanks to the Find My iPhone app, Robert and Lori discovered that their son never made it to the hospital and was still in his Duke University apartment.  They called the Duke University Police, who found him on his couch, semi-conscious and weak, and called for an ambulance to transport him. Justin's parents immediately were on their way from New Jersey to be with their son, scared and unsure of what to expect.
To save a life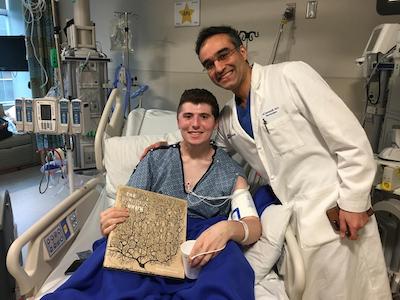 Duke physicians began a battery of tests. Justin was told by the doctors that he had a subarachnoid brain hemorrhage due to a ruptured brain aneurysm. Being a neuroscience major and having shadowed a neurosurgeon previously, Justin knew what this meant. His parents' hearts sank.  
A resident from the Neurosurgery Department informed Justin that endovascular neurosurgeon Ali Zomorodi, MD would be his surgeon.  Justin was moved to Room 2 in the Duke Neurosurgery ICU.  Room 2 became his home for 23 days. His parents went to the Duke University bookstore and clad his room with Duke blankets and memorabilia so he would feel at home in his new surroundings. Room 2 was full of hope and the best medical care available. Each person working in the Neuro ICU was a source of knowledge, experience, and strength.  
Dr. Zomorodi compassionately and patiently explained the nature of Justin's condition to his parents. He said that it was a very complicated case as the aneurysm was borderline giant, bilobed, and surrounded the entire vessel. It was decided that the best approach was intracranial surgery to clip the aneurysm. On Valentine's Day, Justin underwent surgery. 
A long way to go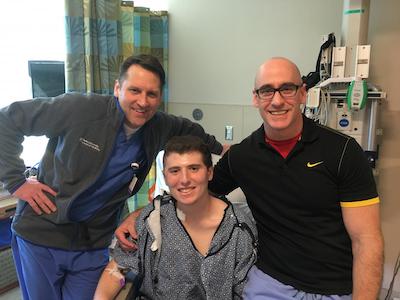 The surgery had been a success, but it was still an uphill battle. Dr. Zomorodi informed them about possible complications, including vasospasms – constriction of the arteries due to the irritation by blood in the brain that can cause a stroke.  He also explained that part of the aneurysm could not be repaired, and they would have to monitor it closely, as  the remaining aneurysm could continue to grow and rupture.  
Complications
After two weeks in intensive care, Justin suffered a setback. His remaining aneurysm was growing between the two clips.  Back to surgery he went, but this time it was endovascular. Through a small incision in his groin, a catheter was snaked to his brain and a stent was successfully placed in his vessel, preventing the need for another open surgery. Justin's remaining aneurysm was resolved.
Coming home
Justin received tremendous news.  "I was so happy when Dr. Zomorodi told me I could leave the hospital." Justin flew to his home in Livingston, New Jersey to complete his recovery.  He returned to Duke University four months later to continue his studies.
Help along the way
Despite such a long and arduous journey,  Justin says he has endearing memories of his time in the ICU. "There were so many wonderful people who helped me along my journey.  They brought me incredible strength and optimism," he said.  He loved his daily banter with the medical staff, his caregivers, and his favorite housekeeping staff member, Jamal. 
One memory that stands out was a generous gift from his nurse anesthetist Janet Hall,  who spoke with Justin about neuroscience as she wheeled him in for his initial surgery.  As he was getting close to leaving the hospital, Janet visited Justin one final time and gave him a book of drawings called The Beautiful Brain.  She wrote a beautiful note inside the cover and continued, "Have all your friends in the ICU sign this book and keep it as a memory of what you have achieved and endured."
Justin says he is extremely grateful for Dr. Zomorodi's skill, warmth, and kindness, and for all his friends, family, nurses, and doctors that supported him and prayed for him along the way. "I wouldn't have been able to do it alone, and fortunately I wasn't," he said.
Giving back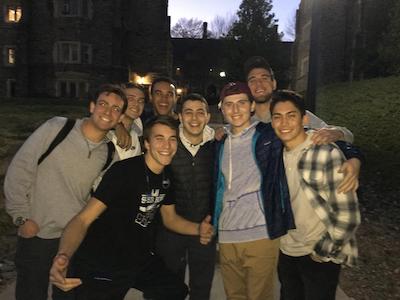 Today he continues as  a neuroscience major, with plans to go to medical school. He prides himself on remembering how blessed he is and intends to use his journey to encourage and support those fighting similar battles. He hopes one day to become a compassionate doctor who always remembers what it is like to be a patient.
Though it was a harrowing experience, the Gelmans, including Justin's siblings Jordan and Aliza, say they are thankful this happened at Duke. "I could have been anywhere, but I was fortunate enough to be at the best place in the world for my condition. I learned that healing is truly a team effort. Everyone involved makes a difference. I am truly grateful that I was so close to the best doctors, caregivers and facility. 
"We wanted to give back.  I truly understand my outcome could have been very different if I wasn't at Duke. We asked, 'How can we help others?' "  In conjunction with Dr. Zomorodi and Duke Neurosurgery, the Duke Brain Aneurysm Fund was born, to provide training and education to as many practitioners and caregivers outside of Duke as possible; to help ensure the best care for everyone, anywhere who experiences what Justin did.  Justin hopes that you will consider donating to his cause so more lives can be saved … just like Justin.