Principal Investigator
Professor of Neurosurgery
Faculty Network Member of the Duke Institute for Brain Sciences
Core Faculty in Innovation & Entrepreneurship
Core Faculty Member, Duke-Margolis Center for Health Policy

Overview
The Duke Neuro-Outcomes Program has one of the largest and most well-respected teams in the field.
The program focuses on identifying, developing and implementing the best methods, approaches and datasets to help address key clinical research questions that impact patients with neurological disorders.
We are dedicated to advancing value creation in healthcare. Our team has influenced healthcare policy and decision making through world-class thought leadership and leverages a unique combination of capabilities in health economics, outcomes research, clinical access, biostatistics and data analytics.
We partner with life sciences organizations that have products that are used in neurosurgery, neurology or translational neuroscience to develop, capture and communicate the clinical and economic evidence required to demonstrate the value of their products. This process ties in closely with the Duke NeuroInnovations program in terms of outlining the economic evidence needed for innovations in our field.
Outcomes studies are playing an important role in the changing landscape of the U.S. healthcare system, in terms of neurosurgical patient management, regulation, reimbursement and education. Analyzing performance, comparing treatment modalities, evaluating long-term results and complications and determining the efficacy and cost-effectiveness of treatments that patients receive is becoming a key part of value-based care.
Research Areas
Devoted exclusively to studying health economics, outcomes and quality improvements in patients with neurological conditions, the Duke Neuro-Outcomes Program is at the forefront of translating clinical research questions into improved clinical care. 
Subspecialties: All specialty areas within Neurosurgery are amenable to customized and detailed statistical analysis plans, based on the interest of the industry partner, student, resident or faculty member.
Outcomes Research: An evidence-based approach is crucial when it comes to evaluating outcomes, and this concept is central to our research. To ensure we develop the best strategies for our projects, we draw from a combination of clinical, scientific, and biostatistics disciplines to determine the best approach.
Value and Evidence Planning: We work together to identify the optimal strategy for generating the appropriate evidence to support a technology innovation's value proposition and deliver it to target decision makers at the right time. We ensure the components of a partner's multifaceted evidence generation plan are strategically integrated and coordinated to deliver the highest quality evidence in a cost-efficient and timely manner.
Reimbursement Strategy: Product success hinges on more than regulatory approval. Payers require evidence and arguments to be convinced of the clinical improvement and economic value of novel therapies. This is particularly challenging in environments where many therapeutic options and emerging comparators exist. By working closely with partners to understand the drivers of value and the economic landscape, our team develops tailored analyses to understand the health economic impact. 
Personnel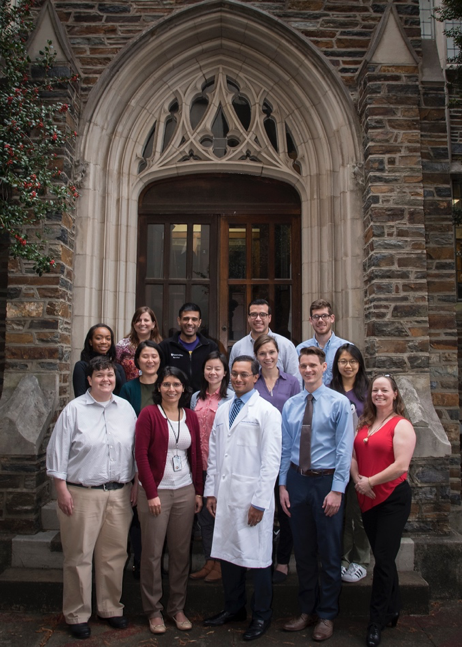 Program Director: Nandan Lad, MD, PhD
Statistical Director: Jichun Xie, PhD
Biostatisticians:
Siyun Yang, MS
Xinru Ren, MS
Clinical Trial Specialist: Allison Spell
Clinical Coordinator: Beth Parente, MHS, PA-C
Staff Assistant: Porsche Atwater
Collaborators that have partnered and published with the Duke Neuro-Outcomes Program:
Alexander R Kent, PhD
Ali Zomorodi, MD
Allan Johnson, PhD
Andrew H Marky, MD
Beth Parente, PA, MHS
Bryan Howell, PhD

Carlos Bagley, MD
Chirag patil, MD
Christopher R Brown, MD
Daniel Loriaux
Debraj Mukherjee, MD
Dennis Turner, MD
Edward Karst, PhD
Evan Calabrese, MD, PhD
Fernando Gonazalez, MD
Frances Wang, MS
Frank W Petralgia, MD
Harrison Farber, BS
J Manuel Sarmiento, MD
Jing Han
John Gallis, MS
John R. Perfect, MD
Kelly Ryan Murphy
Kevin Huang, MD
Maragatha Kuchibhatla, PhD
Mary In-Ping Huang Cobb, MD
Matthew Hazzard, MD
Maxwell Boakye, MD, MPH, MBA
Michael Schiraldi
Miriam Nuno, PhD
Nirav Dalal, MS, MBA
Oren N Gottfried, MD
Patrick Hickey, DO
Peter Staats, MD
Promila Pagadala, PhD
Ranjith Babu, MD
Richard L Boortz-Marx, MD
Robert Gramer, BS
Robert M Levy, MD
Scott  L Runyon, MD
Shervin Rahimpour, MD
Siyun Yang, MS
Steven Cook, MD, PhD
Steven Thomas, MS
Terence Verla, MD
Thomas Hopkins, MD
Timothy A Collins, MD
Tony P. Smith, MD
Warren M Grill, PhD
Yuliya Lokhngina, PhD
Process
The Duke Neuro-Outcomes Program is at the forefront of translating clinical research questions into improved clinical care. Each project begins with a Statistical Analysis Plan (SAP).
The SAP allows one to concisely outline the following:
Hypothesis
Data source
Study design
Key outcomes- Primary and Secondary
Inclusion/Exclusion Criteria
Verified ICD9/CPT Codes relevant to the project
If interested in starting a new project, please contact Dr. Lad to discuss how you can get involved and to receive a sample SAP.
Publications
Our team is consistently amongst the most productive health outcomes research groups in the country. Our program has consistently produced several key publications in the field year after year, along with presentations at many national and international meetings annually.
Browse our library of peer-reviewed publications from the Neuro-Outcomes Program.
Through our unique partnerships with life science organizations, we have developed the necessary team and process to help address key health economic questions and publications that have had a significant impact on the field in recent years.
To contact one of our authors or to get more information on a publication, please contact Dr. Lad at nandan.lad@duke.edu.
Educational Opportunities
The Program will assist medical students interested in applying for a dedicated Duke Third Year research program and construct a productive research plan.
There are also openings for talented undergraduate, medical or graduate students and neurosurgical residents who wish to work in the lab.  Those that are interested and motivated in having a productive research experience, with a combination of clinical experience and clinical research are welcomed.
The Neuro-Outcomes Program provides opportunities for students with biostatistics, data mining, epidemiology backgrounds or those who seek experience in these areas.  Members of the Program are expected to be highly productive and participate in all aspects of research including generation of their own unique hypotheses, statistical analysis plans and submission of high quality manuscripts and presentations.
Interested students should send their CV and brief letter of interest to Dr. Lad at nandan.lad@duke.edu.