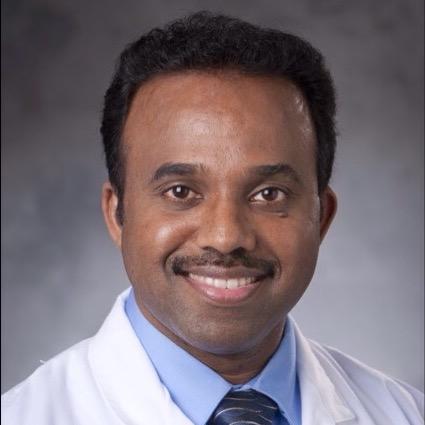 When Senthil Radhakrisnan, PA-C, was nominated for a Presidential Award, 15 letters of recommendation were submitted by his Duke Neurosurgery colleagues. Here are a few excerpts:
He refuses to leave until all the work has been completed and he feels that our patients are safely tucked in for the night.
Even with the numerous expectations placed upon Senthil, I have never, not once, heard him complain. Of all his wonderful characteristics, this is the most striking.
Without fail, Senthil is always one of the first practitioners to arrive with a smile on his face in the morning and the last to leave at the end of a long day.
Senthil's compassion for his patients is matched only by his passion for helping others learn how to take care of patients.
He treats everyone with respect and is the first to help without being asked.
As a teacher, he is patient with questions. He is Socratic. He wants others to succeed.
His bedside manner is unmatched. He is calm and compassionate.
Known as "Gentle Senthil" by his co-workers and his patients, the physician assistant comes from a long line of doctors – 10 generations, to be exact. He was set to start medical school himself when a family friend suggested he might enjoy physical therapy more. After shadowing an orthopaedic surgeon and physical therapist, he saw the difference he could make. Against his mother's wishes, he turned down his medical school acceptance and became a PT.
Senthil said it was a "mid-life crisis" 10 years later that led him to change course again and become a physician assistant. He's now been at Duke for 13 years and is here to stay, he says, because the only thing he loves more than his job is the people he gets to work with.
On April 26, 2018, Senthil was awarded a Meritorious Service Award by Vince Price, president of Duke University, in recognition of outstanding job performance and distinctive contributions to Duke.