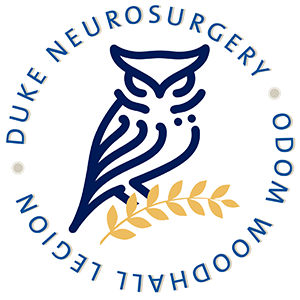 A Duke Neurosurgery Tradition Returns
Beginning in the 1950s, when neurosurgeons finished their training at Duke they became members of a group known as the OWL Society (Odom Woodhall Legion), named in honor of two founding fathers of Duke's neurosurgery program -- Guy Odom, MD, and Barnes Woodhall, MD. Membership perks included regular meetings and get-togethers and an OWL Society lapel pin.
Eventually, the  tradition faded, but today Duke Neurosurgery Chair Gerald Grant, MD, is officially bringing back this society to celebrate Duke Neurosurgery's legacy, including the more recent past leaders, Drs. Robert Wilkins, Allan Friedman, and John Sampson. 
Save the Date
All trainee alumni and former faculty are invited to join current faculty and residents: 
Thursday evening to Saturday morning, September 14 -16, 2023 
at the JB Duke Hotel on the Duke University campus. 
  
This multi-day event will include interactive meetings and social events. More details will be available soon.
Stay in Touch
To ask a question email us. To get on our alumni mailing list, complete this quick form.