Why did you choose Duke?
Timmy Wang, MD (PGY6)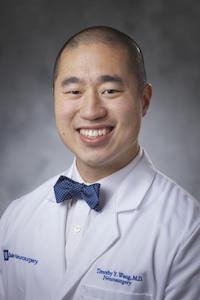 I chose Duke Neurosurgery for several reasons. The most important of which is TRUST. As a graduate of both Duke University and Duke University School of Medicine, I already knew that I trusted the Duke system and the academic environment. Additionally, I knew I would be surrounded by amazing faculty and co-residents who believed in my potential to become a great surgeon.
Other reasons included Duke's strong emphasis on research (basic science, clinical, and translational) as well as its commitment to fostering collaboration amongst many departments.
The department's flexibility was also a major draw—no two residents' interests or paths are the same, and Duke strives to help each resident's experience  fit their passions. I am particularly interested in spine surgery and have been overwhelmingly pleased with the sheer volume and breadth of our spine practice as well as the attendings' willingness to mentor their residents.
Lastly, Duke is an amazing, world-renowned hospital nestled within a medium-sized city. Having grown up in the suburbs, I wanted to live in a place where I could afford a home with a driveway and yard. My wife and I (along with our two dogs) have made Durham our home since 2009 and couldn't imagine being anywhere else. The choice was easy!
Alexa Bramall, MD, PhD ('21)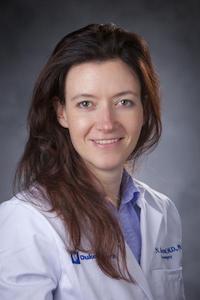 I wanted a supportive environment to develop my clinical and research interests over the course of residency. Duke has a strong neurooncology program and an innovative mindset towards resident education; the program is continually exploring ways to improve the resident experience. I was impressed by the variety of opportunities offered at Duke, encompassing areas such as global health, technology development, and basic science research.
Interviewees should want to train at the program that best meets their needs as future neurosurgery residents. Due to its diversity, Duke is a great place to train with opportunities in all areas of neurosurgery and with a great group of residents to boot.
Jacquelyn Corley, MD ('21)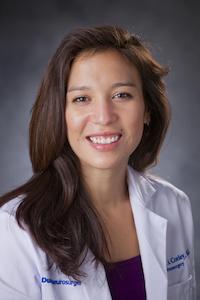 I chose to train at Duke because for me, it was the only program that would allow me to pursue my global health interests and learn to operate and get involved with collaborative research projects. 
Applicants should consider Duke Neurosurgery because there are many opportunities and projects in all aspects of our field that residents can get involved with and the department supports its members to pursue the things that interest them.
Jordan Komisarow, MD ('20)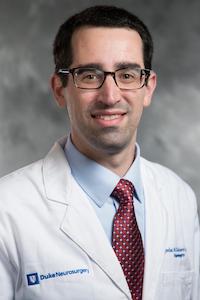 Surgery at Duke has a proud tradition and I feel incredibly lucky to have trained here. We have a tremendous volume of complex cases throughout all the neurosurgical subspecialities. It is exciting to know we can offer patients the cutting edge of clinical care that is backed by innovative research being performed in the laboratory.
As a medical student I got to watch several years of residents graduate with an enviable skill set. This comes from being exposed to so much so often. As important as this, there is a fantastic family feel amongst the entire neurosurgery team. It is a lot of fun to be a part of.
Max Krucoff, MD ('20)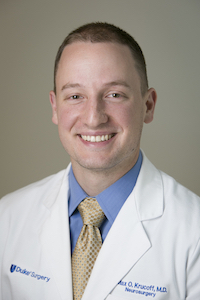 I chose Duke because, ultimately, I am always striving to create something new —new therapies and interventions for quadriplegics, new ways for locked-in patients to communicate with their environments, and new ways to understand the connection between the mind and the brain. 
At Duke, creativity and individuality are encouraged and supported. The department does not care so much about what you do, but rather they care about how and why you do it. The residents and faculty are genuine and want you to succeed. They will take the time to train you, and you will get a huge breadth of experience here that is among the most well-rounded in the world. Furthermore, you have access to great medical students who have an entire year dedicated to research who can help you pursue ambition research goals.
Duke is a place that seeks out individuals who are encouraged to think for themselves and bring their own perspectives to the table, but who also function well in a team setting. The Duke neurosurgeons know that medicine is not a zero sum game — in other words, we do not do well at the expense of our peers and colleagues, but rather, we are at our best when we all succeed. We look out for each other. When we go to work, we go to serve our patients and the practice of medicine, not individual egos. If you are research oriented, want to train hard, and want to be around people who are like-minded but not carbon copies of one another, Duke is the place. 
Vadim Tsvankin, MD ('20)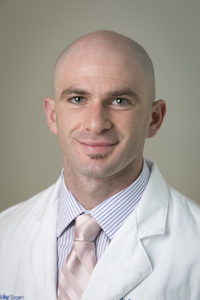 I wanted to maximize my potential as a young neurosurgeon; the group at Duke was the obvious choice. I was able to tailor the program to accommodate my academic interests (in a word: tumors), operate like a fiend, surround myself with a group of residents I not only like but admire, and receive mentorship from a distinguished set of attendings.
I loved the ultra-supportive, whole-is-greater-than-the-sum-of-its-parts mentality of the people here. The senior residents thrive on the success of the juniors, and I dug the idea of passing it forward. Also, my wife told me I'd look good in blue.
Why should you choose Duke? Because you want to be part of an elite group. You're serious about what you do but don't take yourself too seriously. You want to have chief abilities by your fifth year. You played a team sport your whole life and miss it. You want to buzz the tower even when the pattern is full.